Doug Ritter
RSK® Mk4 Gentleman's Folder
Click on photos for higher resolution image - Photos by
Terril Hoffman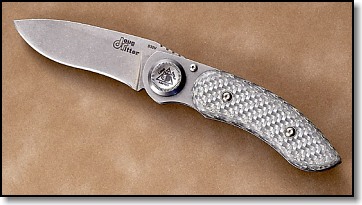 "This is a little knife that thinks it is a big knife...I can not put it down..."
Bill Manger It was about 30 years ago when I first saw and handled the original production Paul® Knife designed by Paul W. Poehlmann. I was fascinated by the unique patented ambidextrous Axial Lock mechanism that allowed you to open the blade with one hand, a novel concept at the time. I didn't have the wherewithal to buy one, but promised myself I'd get one someday. (Click for Paul® Knife history)
Since then Paul has become a legend in the knife world and Paul's knives continued to catch my eye, and occasionally lightened my wallet. When Lone Wolf introduced the Paul® Presto, the first Paul design with my requisite finger guard, my creative juices kicked in. The result is the Doug Ritter RSK® Mk4 Gentleman's Folder, a collaboration between me, Paul W. Poehlmann and Lone Wolf Knives™.
A portion of the proceeds from the sale of each Doug Ritter RSK® Knife goes to support the non-profit Equipped To Survive Foundation.
The Doug Ritter RSK® Mk4 represents the first ever collaboration between Paul and another knife designer and I am truly honored by being allowed this opportunity to work with one of my idols.
"I am pleased beyond words with your new RSK® Mk4 Paul® Presto Folder. Truly a homogenous combination of design, premium materials and outstanding workmanship."
-- Paul W. Poehlmann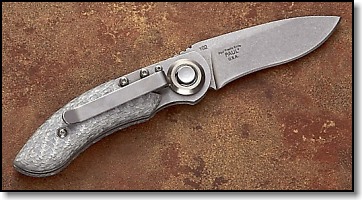 In some respects, this also represents my take on an "Office Survival" or "Urban Survival" blade. A folder that even the "sheeple" who react negatively to a more utilitarian and larger knife cannot find fault with. It's not black and it's not big and "scary." It's compact and looks more like a piece of jewelry than a tool. While I may not like that so many in society react negatively to a larger and more utilitarian knife, I understand that you may not have much choice in this regard if you work or live in some environments.
Despite the industry's "Gentleman's Folder" nomenclature, this is also proving to be a very popular knife with the ladies. When we were showing off the first examples to friends and associates, almost without exception the women's reaction was a simple, "I want one." The size and elegance seem to speak to their sense of style and good taste. It's pretty enough to stand in for a piece of jewelry as a gift, and eminently useful to boot. And, every time she uses it she will remember who gave it to her, the best kind of gift.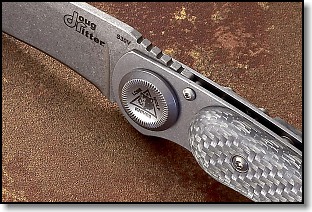 Based on the Paul® Presto, this version incorporates my drop point blade design, special materials and special finishes. The drop point recurved blade is made of Crucible's superb CPM S30V, the best performing stainless steel currently available for cutlery use, in my opinion, with my signature stonewashed finish. It is a perfect compliment to the stonewashed Paul® Presto 420 stainless frame. This represents the first ever use of this finish on a Paul® Knife, either blade or frame.
The handle overlays are custom laid silver tweed G-10 aerospace composite, CNC machined to reveal the beautiful weave with a satin finish, another first for a Paul® Knife. The blade and handle flow together in a perfect balance of grace and style. Taken all together this is an elegantly understated and striking folder that is also very functional. It's more than just a handsome knife; it's a Ritter blade, so utility is still the key requirement.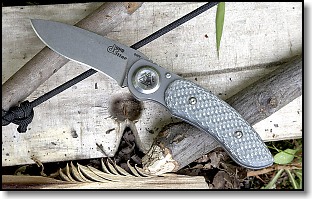 The 2.4-inch blade retains the recurved edge of the original Paul® Presto, an edge design that makes the most of a small blade and ingenuously allows it to fit deeper into the handle. It isn't just for looks; it adds length to the blade's cutting edge so it performs on par with a larger blade. My signature high flat grind on this wide chord drop point blade provides a more acute cutting edge angle for improved slicing capability, which is really why we carry a knife in the first place. Whether you're opening a letter or box at the office, cutting through some packaging or pressing it into service at the dinner table when the provided steak knife isn't sharp enough to cut warm butter, this blade will do the job in a superior manner.

"Last week I went hunting to a ranch near Laredo Mexico. I skinned two javalinas with your (RSK Mk4) knife."
Gene Rodriguez
The blade's spine incorporates a more prominent ramped thumb rest for enhanced control and security. Combined with the modest finger guard incorporated into the handle, these features provide at least some measure of protection against your finger slipping onto the blade edge, but this isn't as slip-resistant as the RSK® Mk1 or Mini-RSK® Mk1, which are more utilitarian designs.
However, lest you think of this Gentleman's Folder as a lightweight or a show piece, I took it out and beat the crap out of it, using it just as I would my utility/survival folders, the RSK® Mk1 and Mini-RSK® Mk1. Slicing, cutting and batoning, it performed solidly and retained its edge as you would expect from an S30V blade. So, elegant looks aside, the Doug Ritter RSK® Mk4 Gentleman's Folder is a superbly practical and robust knife, much more than just a pretty face.
"...great looks with enough back-bone to still serve as a useful survival blade."
Click to read the entire Tactical Knives article.
The signature stonewash finish required special media to get this spectacular result on the very hard S30V steel. It is as functional as it is beautiful. The blade is first polished and then ceramic "stones" impart a random finish that seals the surface, making it even more resistant to corrosion. The stonewashed finish also hides the scratches that naturally occur when you use a knife, so your RSK® Mk4 will look better, longer and with less care on your part. Inside it has a lustrous look, outside in bright sun it practically sparkles.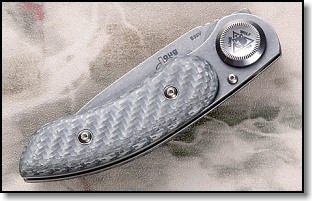 The patented Axial Lock that Paul designed is solid as a bank vault and locks the blade closed as well as open. One hand opening and closing is simple and intuitive and takes only a little practice to master. Hold the knife with the blade up, squeeze the lock to release and a quick flick drops the handle away from the blade. It can be closed one-handed by reversing this process.
For a less dramatic opening when circumstances dictate, simply release the lock and rotate the blade open until it locks in place. The Axial Lock also keeps your fingers out of the way on closing, making it safer than a lockback or liner/frame lock.
Doug Ritter RSK® Mk4 Gentleman's Folder



Paul® Presto Handle, Paul®
Lock & mechanical design

Paul W. Poehlmann
Blade Design

Doug Ritter
Blade Material

CPM S30V hardened to 60-61 HRC
Blade Length

2.4 in. (61 mm)
Blade Thickness

0.09 in. (2.29 mm)
Blade Shape

Wide-Chord Drop Point
Blade Grind

High Flat Grind with 30º inclusive edge,
7.06º bevel
Blade Edge

Recurved Plain Edge
Blade Finish

Stonewashed
Closed Length

3.44 in. (87 mm)
Open Length

5.84 in. (148 mm)
Handle Thickness

0.436 in. (11.1 mm) max
Weight

2.2 oz. (64.4 g)
Handle Overlay Material

Hand laid Silver Tweed G-10 composite
Frame

Stonewashed 420 Stainless Steel
Pocket Clip

Removable 420 Stainless
Lock Mechanism

Ambidextrous Axial Lock
Opener

Ambidextrous Axial Lock
The same stonewashed finish protects the frame. The silver tweed G-10 composite is a classier version of the same super-tough material used in many tactical and hard use knives. G-10 is virtually impervious to chemical attack and most impact damage. The reinforcing mats are hand laid up in layers to produce the beautiful tweed patern which is revealed as it is CNC machined and then satin finished.
The thin low profile stainless pocket clip is removable. I leave it on mine and slip it into my jacket or slacks pocket where it's easy to grab if needed. Or, remove it to drop it into your purse or pocket. At only 3.44 inches overall length and 2.2 ounces (2.1 ounces without pocket clip), it's very pocketable.
"Shaving sharp out of the box (I have a bald patch of arm to prove it) and a sturdy construction. Literally pocketable, and not likely to cause a scare in an urban area. Very nice aesthetics...a candidate for heirloom status. This is a very nice knife."
Mark Griffin
This is a Limited Editon of only 300 knives, all serial numbered on the reverse side. The blade is marked with my Doug Ritter logo and "S30V" on the front side and with the Paul USA/Paul Presto logo and a discrete serial number on the reverse. The Axial Lock release button is marked with the Lone Wolf logo as usual.
The knife is made in the USA and is covered by Lone Wolf Knives' Limited Lifetime Warranty.
A portion of the proceeds from the sale of each Doug Ritter RSK® Knife goes to support the non-profit Equipped To Survive Foundation.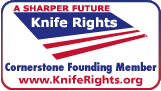 ---
---
Email Doug Ritter
URL: http://www.DougRitter.com/dr_rsk_mk4.htm
First Published on: May 14, 2007
Revision: 08 October 1, 2010


Doug Ritter™ and the Doug Ritter logo are trademarks of Doug Ritter, LLC
Paul Knife and Paul Presto are trademarks of ??????????
© 2007-2010 Douglas S. Ritter - All rights reserved
Check our Copyright Information page for additional information.
Read our
Privacy Policy