Doug Ritter
RSK® Mk3 Fixed Blade Utility / Survival Knife
December 12, 2016: I regret to inform all the fans of my Benchmade-produced RSK Mk3 knives that Benchmade has advised us that it will no longer produce these knives going forward.

The RSK Mk3 is now SOLD OUT and no longer available.


Photographs by Steve White - Click for larger image.
"Long story short, I love the knive! ...G-10 scales, with S30V steel, full tang construction, stone washed finished without having to pay custom prices $$$$$ Nice job Doug!"
TJ - Denver, Colorado
Click here to read more comments from happy RSK® Mk3 purchasers and users.
The Doug Ritter RSK® Mk3 fixed blade (Benchmade model 152) is my first fixed blade design to reach production and it is a direct descendant from the very successful RSK® Mk1 folder. The RSK® Mk3 is a medium-sized lightweight fixed blade with premium steel designed for practical survival, hunting and everyday utility use. The 4.5 inch (11.43 cm) CPM S30V blade is a bit over an inch longer than the full-size RSK® Mk1 folder, but is otherwise similar to that well-received design in many respects.

A portion of the proceeds from the sale of each Doug Ritter RSK® Knife goes to support the non-profit Equipped To Survive Foundation.

If you don't need any details and just want to order, click here to go to the order page on KnifeWorks.com.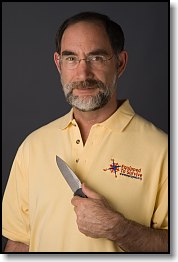 My aim was to produce a practical utility, survival and hunting fixed blade with a superior level of performance at a price that would be, if not cheap, at least affordable, just like the original RSK® Mk1. "Good value" is what we strove for, in a fixed blade knife that you could bet your life on™.
After the remarkable success of the RSK® Mk1, enthusiasts almost immediately started asking for a fixed blade. Easier asked for than delivered, it turned out. But, like the folder, I was motivated by the thought of being able to recommend a lightweight fixed blade knife that I didn't have to make excuses for. There were very few lightweight fixed blades I could recommend and none without some reservations, particularly any that were affordable or on the smaller end of the size scale. (For more information on knives, click to go to the Sharps section on Equipped To Survive®)
I first sketched this knife in April of 2005. We've changed a few details since then, but the basics have remained essentially the same. While it is similar to the short-lived Benchmade Fixed Griptilian, my design is totally unique and that delayed production. That turned out to be a good thing because the extra time served to allow me to further refine the design. Sometimes good things do come to those who are forced to wait.
From my perspective, fixed blade knives designed for survival, utility and hunting use can be broadly divided into three categories, small, medium and large. "Small" fixed blades tend to be replacements for folders with blades from 2 - 3.5 inches for those that don't mind the carry restrictions of the required sheath and size compromises they entail and who prefer a fixed blade for the added strength and other attributes it brings to the table. "Medium" fixed blades run from 3.5 - 6 inches, on my scale, and I consider fixed blades over six inches to be "large."
The RSK® Mk3 falls into the middle of the medium range at 4.5 inches (11.43 cm) for the blade. I find this length ideal for most purposes, big enough to get the job done and it provides more utility than a typical folder, but not so big as to be overly bulky or heavy.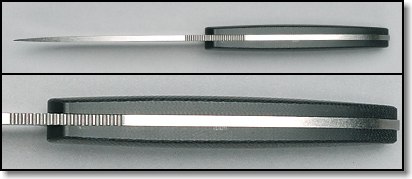 The RSK® Mk3 has proven adept at all the normal survival camp and hunting chores, such as making survival shelters, splitting wood for fires, skinning game and the like. It is just the right size, in my experience; a perfect compromise in size and weight between a typical folder carried for wilderness use, such as my RSK Mk1™, and a larger and much heavier fixed blade.
Conceptually, this knife falls between the lightweight Mora style fixed blade with its traditional scandinavian narrow chord and thin blade, favored by many traditional survival instructors, and the beefier and larger survival/hunting knife or "sharpened prybar" with a 3/16-inch (4.75 mm) to 1/4-inch (6.34 mm) blade that has become popular in recent times and which is prefered by many military-oriented survival instructors.
The blade profile is once again the traditional drop point that I prefer with a wide chord that carries plenty of metal to the tip for strength. Despite using thicker steel than the RSK Mk1™, 0.140 inch (3.56 mm), the wide chord and high grind allowed us to keep virtually the same edge geometry that so many have found to make for such a great slicer. The thicker steel provides added strength and rigidity, but it isn't so thick that it favors brute strength over everyday functionality, like some larger and thicker survival and utility blades do. The high grind does trade-off some potential stiffness and ultimate strength that a lower grind might provide in exchange for better slicing ability, a practical compromise in my opinion.
There is enough belly to the blade, a wee bit more than the folder, so that it is adequate to use for dressing game, but not so much that it interferes with overall utility. The edge profile is very close to that of the RSK Mk1™ folder that has proven so popular with hunters and guides in Canada and Alaska where it has dressed out lots of moose, elk, caribou and the like.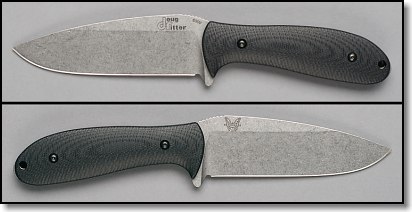 Blade steel is Crucible CPM S30V high-carbon stainless steel. Our experience with this cutlery "super-steel" has been very good overall with well over 3,000 RSK Mk1™ knives in the field (as well many times that number of S30V Benchmade knives, to say nothing of Chris Reeve, Spyderco and others who have tens of thousands of these blades in the field undergoing plenty of hard use). It has lived up to the hype of superior edge-holding, toughness and corrosion resistance compared to other stainless cutlery steels. Prototypes of the RSK® Mk3 withstood considerable hard use in survival field testing without any problems surfacing.
The blade is hardened to Rc 58-60 where it keeps an edge extremely well while retaining sufficient toughness for the sorts of use this blade will see. Contrary to popular myth, I haven't found S30V difficult to sharpen using ceramic, diamond or even carbide sharpeners (I leave carbide for quick field sharpening as it doesn't produce as fine an edge as I prefer). For that matter, in order to test sharpen it beyond the occasional touch up, we had to actually dull it by abusing it. In normal use it's not needed anything more than a touch-up.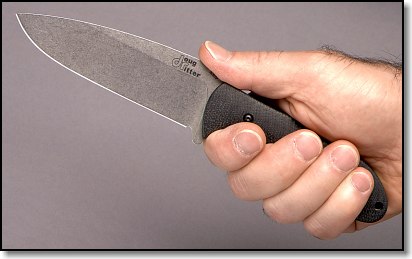 This knife will stand up to quite hard normal outdoors and survival use, including batoning to split wood, but it is not a "sharpened prybar" style knife, like a Becker, RAT or Busse. In exchange, this knife is quite a bit lighter for its length, only 5.7 ounces (161.6 g). Lighter weight means it is more likely to be carried, which in turn means is is more likely to be there when you need it. For pilots especially, weight is always a consideration, but anyone carrying a load any distance may appreciate a lighterweight tool. If you are interested in a big, heavy brute of a knife, this knife is not for you.
Please allow me a short rant: Just because a knife has "survival" in its description or name, doesn't mean it can withstand any absurd abuse some idiot comes up with. These are ridiculous and infantile expectations bred by overhyped marketing, Hollywood and ignorance. Rambo is not reality. You always need to respect the limitations of your tools. With rare exceptions, knives are not meant to serve as prybars or hammers. They are primarily cutting tools and lighterweight knives are primarily slicing tools. A lightweight knife will never be a replacement for a crowbar, axe or hatchet, though it may be quite capable of keeping you alive in virutally any situation. This is not to indict larger and heavier knives; they have their place and many prefer a larger knife. If you want to pry or chop with a knife, you defintiely want a larger, heavier and thicker blade. Any knife can be broken or damaged, even those "sharpened prybars." The Doug Ritter RSK® Mk3 is a knife that will take care of you, if you take reasonable care of it and use it responsibly.
Blade (and tang) finish is my strikingly beautiful, but very practical "stonewashed" tumbled finish that also serves to seal the metal's pores for added corrosion protection and strength. The result is a subdued finish, but one that is smooth and just barely lustrous. The finishing media and process was designed expressly for me to get the exclusive finish quality I desired. This is a very subtle finish that is difficult to capture with the digital camera I have, it looks much better in the flesh. As many RSK® Mk3 users have discovered, this finish holds up very well and doesn't show minor scratches much at all. It's the perfect finish for a practical using knife.
I am extremely pleased with my RSK (serial # 042). I used the knife heavily around camps in the Minnesota Boundary Waters Canoe Area. There is nothing this knife canít handle from slicing foodstuffs to fire-building.
Gary Freiermuth - Hastings, Minnesota


Doug Ritter RSK® Mk3


Overall Design
Doug Ritter
Handle Design
Doug Ritter based on original Mel Pardue Griptilian profile
Blade Material
CPM S30V hardened to 58-60 HRC
Blade Length
4.5 in. (11.43 cm)
Blade Thickness
0.140 in. (3.56 mm)
Blade Shape
Wide-Chord Drop Point
Blade Grind
High Flat grind with 30º inclusive edge, 7º bevel
Overall Length
9.1 in. (23.1 cm)
Handle Thickness
0.67 in. (17 mm) max
Weight
5.7 oz. (161.6 g)
Tang Style
Full, extends past handle material at rear, lanyard hole
Handle Material
Black G10 Composite
Sheath
Multi-carry Ballistic Nylon w/ molded ABS Liner
*Specification subject to change without notice

The ergonomic handle shape is evolved from the RSK® Mk1 handle originally designed by Mel Pardue, with a slightly longer effective grip length and a bit wider to fill the hand better. Without the restrictions dictated by a folder's mechanical requirements, there is a true half guard, which eliminates the necessity for many of the other gripping artifices that help make the Griptilian folder so easy to hold onto, but which aren't necessary with the RSK® Mk3. A thumb ramp with eased light jimping (ridges) is integrated into the tang at the forward part of the handle and the jimping is carried forward on the spine for added control. The thumb ramp eases over onto the spine, eliminating any abrupt change that might be uncomfortable under hard use.

Without the pivot mechanism to deal with and a slim half guard, your hand is much closer to the blade edge, improving control for fine blade work. On this size knife I see no reason to give up any useful edge length to a full-sized finger choil with little appreciable gain.

There is no "bird's beak" or abrupt drop at the aft end of the handle as that tends to limit the size hand that would find this mid-sized knife comfortable. Someone with very large hands will still be able to use this knife with a full grip. There is enough downward curve and swell to the handle to ensure a good grip when pulling on the knife, even in slippery conditions.

The ergonomic sculpted black G-10 aircraft grade composite handles are three-dimensionally CNC machined with very shallow vertical ridges for a secure grip. The contours follow that of the Griptilian handle for the most part, but without the checkering. The multiple layers of the woven G-10 composite are very apparent with the three-dimensional machining and provides a touch of class to this otherwise very utilitarian knife. Proof, I suppose, that utility doesn't have to look dull or boring.

In heavy use without gloves, the smoother handles are less likely to raise a blister and will be more comfortable over the long haul. The full tang extends slightly past the end of the handle in case you need to hammer on it for added penetration, providing some protection for the scales. A lanyard hole sized to accept parachute cord is included. The handle scales are each attached with a pair of black coated Torx-head machine screws into press-fit brass tang inserts.

Balance is neutral, which is exactly what you want with this size knife. It will never be a chopper, it's not large enough or heavy enough, so no need to carry extra weight forward.


I LOOOOOOVE my Ritter fixed blade...The handle is the part that surprised me. You've got to see it in person to really appreciated it. I have big hands (I'm 6'5" tall) and was concerned that the handle might be too small for me, but it feels great in my hand.
Ken Kortge - Grayslake, Illinois

Click here to read more comments from happy RSK® Mk3 purchasers and users.

The sheath is black ballistic nylon, tactical style, with an ambidextrous molded plastic insert. The Doug Ritter logo is embroidered on the face in dark gray thread for a subtle tone-on-tone effect (much less noticeable in real life than it appears in the photo). The retention strap has a snap closure and a reinforced thumb break for quick and easy release. (Click for a list of custom sheathmakers if you are looking for something in leather or Kydex)

The front (left side) of the blade is laser-etched with my Doug Ritter mark and S30V. The reverse is laser etched with the Benchmade USA logo and model number.

The Doug Ritter RSK® Mk3 is made in the USA and is covered by Benchmade's Limited Lifetime Warranty and their exclusive Lifesharp® Service. The sheath is made in China.


The Doug Ritter RSK® Mk3 is available exclusively from KnifeWorks.com.

The price for the Doug Ritter RSK® Mk3 is $165. I don't believe that you will find a better overall value in a high quality, lightweight S30V fixed blade for everyday utility or survival.

A portion of the proceeds from the sale of each Doug Ritter RSK® Knife goes to support the non-profit Equipped To Survive Foundation.




---

---

Email Doug Ritter
URL: http://www.DougRitter.com/dr_rsk_mk3.htm
Revision: 07 October 31, 2011