Doug Ritter
Special Edition MkII Photon Freedom Micro
Click on photos for larger image. Photos by Steve White and Doug Ritter.
Doug Ritter Special Edition MkII Photon Freedom Micro™
Avialable Again - PRICE REDUCED! -- Get yours now!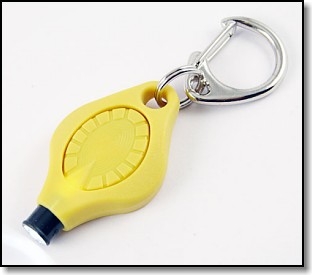 Doug Ritter Special Edition MkII
Photon Freedom Micro™

"Doug, you nailed it again. This new Photon is perfect!"
Bob in New York
I've long recommended and personally carried Photon Micro-Lights™ because of their high quality and superior performance. They pretty much established the market for the keychain-sized, single LED flashlight and over the years have maintained a leadership position using only the best materials and LEDs and introducing innovation after innovation.
Ever the perfectionist, I have always thought that a few tweaks would make them even better and have had many discussions with David Allen, the Photon's inventor and owner of the company. The latest Photon Freedom Micro™ went a long way towards meeting my idealized requirements with simplified one-button micro chip controlled operation, variable light intensity in both directions, water-resistant construction and the highest quality materials and construction, all at an affordable price.
While you can get much less expensive single LED keychain flashlights and some less sophisticated Photon models, I don't think anything else provides this combination of features, quality and performance for the price. The very cheapest LED flashlights don't even have a constant on feature; you must continually squeeze the switch for light, making them useless for emergency use, in my opinion.
Then at SHOT Show 2005 David was showing off the newest version of the Freedom, what he was calling "Freedom to the MAX," which introduced the latest technology Nichia white 5mm LED delivering twice the light of any other single white LED light with the same energy consumption! David had purchased the entire first runs of these LEDs for his exclusive use. My desire to tweak the light to make it better took on new urgency.
More light with no decrease in battery life sounds almost too good to be true. Almost, but not quite; in this case, it really is true. This represents a huge advancement in LED technology; typically we talk about a few percentage points of improvement, not giant leaps such as this. Nichia developed a new substrate in which the LED is placed that is much more transparent than the more opaque material used previously. Clearer material results in more light being transmitted, it's that simple. Simple in theory, but it took some innovative technology to allow for this to be done.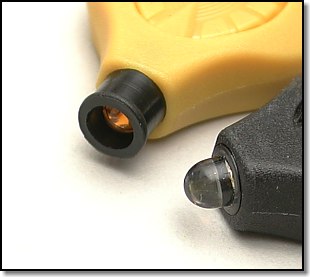 Protective tube on Doug Ritter Special Edition MkII Photon Freedom Micro™ (above) eliminates side scatter compared to original (below)


However, brighter is not always better in every respect. The side scatter light from the brighter exposed LED is simply too bright, in my opinion, for comfortable use at its full brightness level. Beyond the annoyance and discomfort, it presents a significant detriment to night vision adaptation.

Collaborating with David and KnifeWorks.com, I can offer you the Doug Ritter Special Edition MkII Photon Freedom Micro™ with two unique features:

The Doug Ritter Special Edition MkII Photon Freedom Micro™ has a protective LED tube that both eliminates most side scatter and protects the LED, while still allowing the general flood illumination that makes for a more practical and useful light. No more side scatter and a wide area of useable light surrounding the twice-as-bright main beam.

The Doug Ritter Special Edition MkII Photon Freedom Micro™ is also bright yellow colored, so it's easy to locate. Whether in your purse, pocket, flight bag or if dropped, the bright yellow makes it a cinch to find.

Even with these two unique features, we have managed to keep the price of the Doug Ritter Special Edition Photon Freedom Micro™ at only $15.95 (a $4 savings over the old price).
If you don't need any further details and just want to order, click here to go to the order page on KnifeWorks.com.
SPECIFICATIONS

Lamp
Nichia 2X Brightness (Bin U,V or W) 5mm White Light Emitting Diode
Main Beam
On/Off and Full Brightness Range Control
Safety Beacon
Slow, Medium & Fast Flash / SOS / Morse Code
Control Technology
Integrated Microprocessor Controller with Photon Proprietary software
Battery Life
12 - 100+ hours, depending on mode selected
Batteries
Lithium, 10-year shelf life - two CR 2016
Material
Yellow Glass-filled Polyurethane
Weight
Under 7 grams without split ring or clip
Accessories Included
Quick Release Clip
Multi-purpose Photon Clip
Safety Lanyard with Quick Release Photon Carrier
Guarantee
Limited Lifetime
Beyond these two unique features available only on the Doug Ritter Special Edition MkII Photon Freedom Micro™, the light includes all the great features of the standard Photon Freedom Micro™. I have copied these below from the Photon literature, with my comments added:

The Doug Ritter Special Edition MkII Photon Freedom Micro™ features simple, intuitive single-button operation that provides quick, easy access to the features you use most, with additional mode settings available only when you want them. "Smart circuit" technology gives you the light you need, when you need it. One button does it all!

Simple, intuitive operation:
Important: Before using your Doug Ritter Special Edition MkII Photon Freedom Micro™ you must take it out of Demonstration Mode by pressing and holding down the control button until the light turns off (approximately 20 seconds).

Note that if you plan to store the light for emergency use only, leaving it in demo mode prevents inadvertent battery depletion, but you should tag the light to ensure that whomever goes to use it knows to take it out of demo mode. Click here for instructions on how to get the light back into demonstration mode once it's been taken out of demo mode (opens a new browser window).
All it takes is a simple squeeze of the button to give you instant full power illumination at any time. To dim the light once it is turned on, simply press and hold the button to dim the light to the desired level.

Alternatively, pressing and holding the button when the light is already off will turn it on at the lowest level and allow you to gradually increase the brightness to give you just the amount of light you need to accomplish your task without disturbing your night vision or disrupting those around you.

When needed, the four safety strobe functions (fast, medium, slow, & SOS) can be accessed by continuing to hold the button down. Once the light has dimmed or brightened fully, it will proceed to cycle through the various strobe functions. Simply release the button when you reach the desired beacon mode. In addition, instructions are provided for a shortcut to the SOS mode.

An additional "signaling" mode can be accessed by tapping the button several times in rapid succession. When in the signaling mode, the LED will illuminate only while the button is pressed and goes off when it is released. To exit the signaling mode and return the light to normal operation, simply press and hold the button for several seconds until the light turns off. This mode can also be used to prevent accidental battery drain. However, having carried these lights for years in my pocket, I have never yet had it turn on inadvertently when in normal mode. The switch is not so sensitive that this is much of a problem.

Finally, there's also an undocumented feature in the microprocessor firmware that allows you to operate the light at 50% power in all modes for even greater battery life. This could be handy in a true survival situation where you need to maximize battery life. In this mode you have approximately the same illumination levels that were found in the original Photon Freedom Micro™ Click here for information on this additional mode. (opens a new browser window)

Detailed instructions for operating and maintaining the Doug Ritter Special Edition Photon Freedom Micro™ are included.
The Doug Ritter Special Edition Photon Freedom Micro™ is truly the easiest-to-use, full-featured micro-light available. Nearly indestructible, it is backed up by one of the best warranties in the industry.
Smart Circuit -- Simple, intuitive one-button control to access all features.

Digital Electronic, instant full power On/Off at any time.
Digital Electronic, instant on at lowest power to protect night vision.
Full range digital brightness control.

Brightness control uses advanced technology Pulse Width Modulation. The microprocessor pulses the LED on and off at a variable frequency, in other words, turning the light on and off very rapidly. This is so rapid it isn't visible to the naked eye, but it serves to create the different values of brightness. The big advantage is that this results in a substantial power savings over less sophisticated brightness control methods and provides much longer battery life. In addition, Pulse Width Modulation provides full current to the LED when it is momentarily "on," so the color of the white beam does not change, as can otherwise occur with less sophisticated methods.

4 Safety modes: Slow - Medium - Fast - SOS (with shortcut to SOS mode)
Signaling / Morse Code mode.


Single Button Operation -- Easy operation even with gloves.
Easy Battery Replacement -- A pair of Energizer CR-2016 3-volt lithium batteries provide long lasting service even in sub-zero temperatures.

These lithium batteries also have a 10-year shelf life, so unlike many other flashlight, this is not a storage case for dead batteries. Odds are you'll have light when you need it in an emergency.

Quick Release Ring -- Reliably attaches to gear for quick release.
Water Resistant

"Water resistant" is one of those nebulous terms I hate. Unfortunately, it's about as close as you can get to describing this. The light isn't waterproof. Don't take is SCUBA diving. It will survive being used in a rain storm or being dunked in a stream with no ill effects. I've run it through the washer and dryer and it works fine afterwards. If it does get water inside, it is simple to open up, take out the batteries and dry it out. Put it back together and it seems to work just fine.

24K Gold Plated Contacts -- Superior corrosion resistance.
Brightest White 5mm LED Available
Micro-Size & Weight -- Hides under a quarter and weighs less than 7 grams.
Glass Filled Polyurethane Case -- Virtually Indestructible.

How "virtually indestructible?" I've run over these with my 3/4-ton pickup with no obvious damage.

Hands Free Multi-Purpose Photon Clip -- Included with your Doug Ritter Special Edition MkII Photon Freedom Micro™ (a $4.99 value if purchased separately). Constructed of corrosion proof nylon and stainless steel.

Using this clip you can attach the Doug Ritter Special Edition MkII Photon Freedom Micro™ to the bill of a cap, a pocket or many other places for easy hands-free operation. The clip rotates 360 degrees horizontally and 180 degrees vertically. I find this clip to be a real boon in many situations where I need both hands. No more need to hold the light in your mouth...and trying to keep it aimed where you want...or trying to make yourself understood to others without losing the light. The Photon Clip is designed so you don't have to remove the included carabinier, it fits in the clip with it in place.

The base of this Photon Clip includes three powerful rare-earth metal micro-magnets on the underside, so the base can be attached to any steel surface, adding to the versatility of this handy accessory.

I typically carry this Photon Clip in my waist pack, but in many situations you'll want to either carry it in your pocket or store it in a small kit where volume is a factor. In either case, you can break down the clip into two pieces that will nest into one another for a much more compact package. Click here for an illustration of how to do this.

You can also use Velcro dots to secure the Doug Ritter Special Edition Photon Freedom Micro™ to gear, eye glasses, or the like.

No Nonsense Guarantee -- If your Doug Ritter Special Edition MkII Photon Freedom Micro™ fails for any reason other than abuse or battery expiration, return it to the manufacturer for a free repair or replacement. Click here for details. (opens a new browser window)
Income from the sale of the Doug Ritter Special Edition MkII Photon Freedom Micro™ and my other RSKŪ knives and gear allow me to spend the majority of my time on Knife Rights' efforts to free knife owners from irrational knife restrictions. This has resulted in 33 bills enacted repealing knife bans in 23 states and over 100 cities and towns, eight anti-knife bills defeated and numerous litigation victories since 2010.
---
---
Email Doug Ritter
URL: http://www.DougRitter.com/dr_photon.htm
First Published on: July 5, 2005
Revision: 04 February 9, 2010