Doug Ritter
RSK® Mk1 Folding Utility/Survival Knife
October 3, 2018: The next generation of survival authority and Knife Rights Chairman Doug Ritter's popular RSK® Mk1 ambidextrous folder, manufactured by Hogue, is now available EXCLUSIVELY from KnifeWorks.

The RSK® Mk1-G2 (Generation 2) is an upgraded version of the original RSK® Mk1 that Ritter introduced in 2004 (below). It features a G10 handle, Ritter's highly regarded wide-chord, high flat-ground drop point blade in CPM 20CV, the ambidextrous ABLE™ Lock and other refinements. Ritter said, "I don't believe that you will find a better overall value in a USA-made folder for everyday utility or survival." Full details on the RSK® Mk1-G2 page.

Purchase the RSK® Mk1-G2 EXCLUSIVELY at KnifeWorks.com with FREE continental U.S. shipping.
More details at KnifeWorks.com
August, 2016: I regret to inform all the fans of my Benchmade-produced RSK Mk1 knives that Benchmade has advised us that it will no longer produce these knives going forward.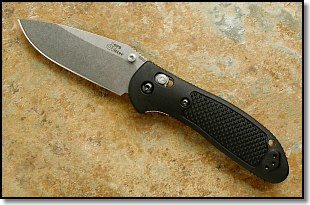 "I got mine. It is as perfect as imaginable!! I think it competes favorably with knives costing 2x or more."
Geoff in Philly
Not everyone can afford $200 or more for a top quality folding knife. Even $150 is pushing it for many. However, everyone deserves a knife they can trust their life to in extreme conditions, a knife you can bet your life on™. An affordable knife that fit that description was my goal and I'm very pleased that my Doug Ritter RSK® Mk1 does just that. This is a collaborative evolution of Benchmade's Griptilian® folder produced exclusively to my own specifications. "RSK" stands for Ritter Survival Knife, an indication of its strength and reliability, but it's really a perfectly practical everyday carry knife. Thousands have been sold and are in daily use throughout the world, from urban city to Alaskan wilderness to Middle-Eastern war zones.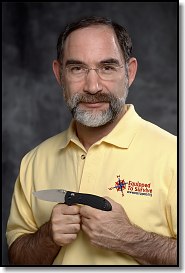 The aim was to produce a practical utility and survival folder of uncommon strength, ease of use and top level performance at a price that would be, if not cheap, at least affordable. It had to be damn good, but it also had to be reasonably priced. "Good value" is a term that comes to mind.
It took me over 2 years to work myself into spending the extra money for the Ritter RSK...I cannot tell you how much I am glad I did!
Jeff in Illinois
This was the first knife with my name on it and I'm one proud papa. I also have to say right up front that I'm no knifemaker, or even a designer in the traditional sense of the word. I just wanted people to be able to purchase an affordable knife that had all the features I prefer. All too often I have found myself recommending a knife with the added proviso that as good as it is, it is missing some feature or other, or more than one, that I prefer, or one that is simply out of reach of most wallets. (Click to go to the Sharps section on Equipped To Survive™) I discovered that the only way to get that what I was after was to do it myself, basing it on an established design already in production to keep costs under control.


So, you ask, what features were required to fully satisfy my desired requirements?
One-hand opening
Locking blade with a very secure and strong blade lock
Pocket clip
Fully ambidextrous (clip, lock and blade opening)
Traditional wide-chord drop point blade shape, 3 to 3.5 inches long
Composite non-slip handle/scales
Effective finger guard
Lanyard hole
Premium grade stainless steel blade that holds an edge
Quality construction beyond reproach
Preferably, made in the USA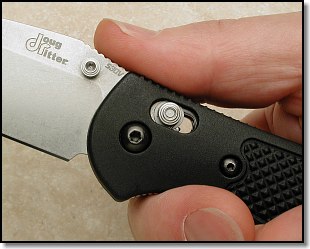 Mel Pardue and I first started talking about such a knife in a conversation at SHOT Show in 1999. Not much came of it; the concept apparently wasn't sexy enough to be of much interest as a commercial product in any U.S. manufacturers' line. Most I spoke with over the years didn't even want to discuss it. Over the intervening years Mel, Benchmade President Les de Asis and I continued to talk about the concept and finally everything came together in 2004.

Les noted, "I am very pleased that we have been able to combine Doug Ritter's considerable expertise and uncompromising standards together with Benchmade's world-class manufacturing capabilities to create this 'purpose driven' design collaboration. The resulting Doug Ritter RSK Mk1 is a no-nonsense tool ensuring the highest degree of survivability while in harm's way--and a smart value as well."

Said Mel, "after many years of discussions on the subject, it is a pleasure to see Doug's quest to create a practical survival folder with all the features he holds dear come to life by combining this classic blade shape he loves and top-notch steel with one of my most successful and well-received designs. The Griptilian® has so many subtle features built in to it that really show up when you actually use the knife; the response by the end user has been very gratifying."


The sturdy black ergonomic glass-filled Noryl GTX handles, stainless inset liners and patented super strong ambidextrous AXIS™ Lock are pure Griptilian®, as originally designed by Mel Pardue. This is a handle that just plain works and has all the features I prefer, including a secure non-slip grip that fills the hand comfortably and a pronounced finger guard for safety, as well as a full-size lanyard hole. The pocket clip is reversible and thus ambidextrous.
The full size Ritter is one of the best knives I own, and I have Striders and CRK's (Chris Reeve Knives). It holds its own with the big dogs.
Dan in Baltimore
Lightweight at only 3.82 oz. (108.29 g), The full-sized RSK® Mk1 is 4.62 in. (11.74 cm) closed with an open length of 8.06 in. (20.48 cm).
The scaled-down handle of the Mini-RSK® Mk1, 3.87 in. (9.82 cm) closed, retains the same excellent grippability features of its larger sibling, providing a three or three and a half finger grip, depending upon your hand size, still plenty for a secure hold. The Mini is a true featherweight at only 2.68 oz. (76 g). With its light weight and smaller size, some have found they prefer removing the pocket clip altogether and just carry the Mini loose in their pocket. Others find the Mini perfectly sized and shaped for in-the-waistband (IWB) carry. This can be the most unobtrusive way to carry, while still having it readily available.
Both modles are available with original black handles or with "Don't Lose Me" orange. Whether you've dropped it on the forest floor, or just set it down, the bright handles definitely make it much easier to locate. The Mini-RSK® Mk1 is also available with pink handles (see below for details)
The handles are Noryl GTX (black) and Valox PBT (orange and pink), both tough composites which will stand up to the abuse they may see in the real world, while allowing to lighter weight.
The wide-chord and robust drop point, plain edge, 3.44-inch (8.74 cm) blade, 2.88 (7.32 cm) for the Mini, is my design, influenced by blades I've owned or coveted by custom makers I respect. Anyone who has been reading Equipped To Survive® for the past couploe decades will know I prefer a robust and wide-chord drop point blade shape. This is a traditional blade style, very strong all the way to the point and very versatile, if not particularly "sexy" or "tactical." In today's politically correct world, that may not be such a bad thing for an everyday carry blade in some places.

RSK® Mk1
Mini-RSK® Mk1
Griptilian® handle &
mechanical design
Mel Pardue
AXIS Lock design
Bill McHenry and Jason Williams
Blade Design
Doug Ritter
Blade Material
Böhler M390 hardened to 60-62 HRC
Blade Length
3.44 in. (8.74 cm)
2.88 in. (7.32 cm)
Blade Thickness
0.115 in. (2.92 mm)
0.100 in. (2.54 mm)
Blade Shape
Wide-Chord Drop Point
Blade Finish
Heavy Stonewash
Closed Length
4.62 in. (11.73 cm)
3.87 in. (9.82 cm)
Open Length
8.06 in. (20.47 cm)
6.74 in. (17.12 cm)
Handle Thickness
0.64 in. (1.63 cm) max
0.51 in. (1.30 cm) max
Weight
3.82 oz. (108.29 g)
2.68 oz. (76 g)
Handle Material
Glass-filled Noryl GTX
Black: Glass-filled Noryl GTX
Colors: Valox PBT
Liners
410 Stainless Steel
Pivot Washers
Phosphor Bronze
Pocket Clip
Ambidextrous Reversible, Removeable, Parkerized Stainless Steel
Lock Mechanism
Ambidextrous AXIS Lock
Opener
Ambidextrous Dual Thumb Studs
*Specification subject to change without notice
It is a shape that has been proven in the field by generations of experienced outdoorsmen who value practicality over all else. Personally, I happen to think it has classic good looks, but sexy is in the eye of the beholder and I am admittedly a bit biased.

The blade's spine incorporates a prominent ramped thumb rest for enhanced control and security. This thumb rest portion of the spine also does an excellent job creating sparks using an artificial flint and can be used with the knife closed for added safety. The blade has a high flat grind for cutting ease and strength. This grind makes for excellent slicing geometry; field reports confirm that it is an extraordinarily efficient slicer. Dual thumb lugs provide ambidextrous opening, easy even with gloves on, completing the fully ambidextrous nature of this folder.

Topping this all off, the 0.115-inch (2.92 mm) thick blade, 0.100 in. (2.54 mm) for the Mini, is made of Böhler-Uddeholm M390 Microclean powder metallurgy high carbon stainless steel, one of the very best performing stainless steels currently available for cutlery use, in my opinion. Compared to the first generation premium CPM S30V steel used in the original version of this knife, M390 offers improved edge holding, greater toughness and higher corrosion resistance. M390 is a truly transformational steel, hardened to HRC 60-62, yet still providing improved toughness that is essential to an all-around knife. The added corrosion resistance is just icing on the cake.

Ultimately, it's the blade that does the cutting and I've always felt this was an area often compromised in "affordable" knives. This is a knife whose blade will continue to cut when others are barely capable of slicing through soft butter. When things are at their worst, this is a blade you can count on to see you through, a knife you can bet your life on™.

The Doug Ritter RSK® Mk1 blades are finished in a strikingly beautiful, but very practical "stone washed" tumbled finish, known as "stonewash," that also serves to seal the metal's pores for added corrosion protection and strength. The result is a subdued finish, but one that is smooth and just barely lustrous. The finishing media and process was designed expressly for this knife to get the exclusive finish quality I desired. This is a very subtle finish that is difficult to capture with a camera. As our many customers will attest, it looks much better in the flesh.

This is an eminently practical everyday carry utility knife with the robustness and functionality needed if it becomes your lifeline for survival. It's a working knife that is pure function, with everything you need, nothing you don't.™

The Mini-RSK® Mk1 was developed specifically in response to customer requests; they simply wanted a smaller, more conveniently sized or more politically correct and less intimidating version of the original. There are many situations, particularly in an urban or business environment, where its smaller size is an asset. A number of the requests for a smaller version came from women who were looking for a blade that would appear less menacing or that better fit smaller hands. The available optional colored handles can also contribute to making it more acceptable and less like a weapon in the view of some. It is a great utility folder and it will meet blade length restrictions that in some localities limit folders to a maximum of three inches (7.62 cm). It is still robust enough to see you through almost any situation, however, for wilderness survival use I still prefer the full-sized RSK® Mk1.
"If you don't already have one of these, get one! Mine has earned a permanent spot in my pocket. It's the perfect EDC from the streets to the Boonies. You just won't find a better knife for the money. I think Benchmade and Mr. Ritter have just made the ultimate small, inexpensive utility knife."
Rob Harnas
Tucson, Arizona
The front (left side) of the blade is laser-etched with my Doug Ritter trademark and "M390". The reverse is laser etched with the Benchmade USA logo, model number and patent number.
The stainless steel pocket clip is reversible and thus ambidextrous. With the exception of the satin finish split arrow clip of the PINK Ribbon Special Mini-RSK® Mk1, the clip has a parkerized black finish. Note that this is an upgrade from the painted clips that are standard on the Griptilian® which are known to chip over time. The parkerized finish is subdued and will develop a patina over time.
Doug Ritter's RSK® Mk1 and Mini-RSK® Mk1 are made in the USA and are covered by Benchmade's Limited Lifetime Warranty and their exclusive Lifesharp® Service.
I don't believe that you will find a better overall value in a folder for everyday utility or survival.
"Using this knife is a joy, and I can't really find anything I dislike about it. It's a tough choice now on whether to carry this, or much more expensive custom folders. This will always be part of my wilderness travel gear though, that's for sure."
Thayne Young
Simi Valley, California
Read more comments from happy RSK® Mk1 purchasers and users.
---
---
Email Doug Ritter
URL: http://www.DougRitter.com/dr_rsk_mk1.htm
Revision: 18 December 2, 2019


Doug Ritter™ and the Doug Ritter logo are registered trademarks of Douglas S. Ritter
© 2004-2019 Douglas S. Ritter - All rights reserved
Check our Copyright Information page for additional information.
Read our
Privacy Policy