Doug Ritter
RSK Mk4 Gentleman's Folder

Customer Comments on the RSK Mk4 Paul Presto
"...great looks with enough back-bone to still serve as a useful survival blade."
"In true Ritter ideology, the folder is pure utilitarian design but also sports an elegant look and feel to it. In my opinion, this knife would be perfectly suited to fit in a lady's purse or carried in business suit attire, but don't just stop there. In a pinch it's tough enough to be used as a small survival folder..."
Jeff Randall in Tactical Knives magazine
Click to read the entire article.

Return To RSK Mk4
"Save up for the MK4. This smaller knife has all of the feel of a knife twice its size; I can not put it down and since summer is here I may even be EDCing it a bit."
"This is a little knife that thinks it is a big knife (like a Jack Russell thinks it is a big dog). It has a thick sturdy blade that is not reminicient of many other smaller sized knives. The slight recurve extends the cutting edge a bit and makes a nice "pocket" along the base of the blade for precision carving. This also creates a slight "belly" along the leading edge of the blade which will also aid cutting tasks. The blade has the same high quality that the other S30V Ritter knives have and is of course razor sharp. The Paul lock is very secure and easy to get used to and one hand opening and closing is easy to master. When clipped to a pocket all you need to do is grasp the knife by the locking mechanism with your index finger and thumb. Pull it out of the pocket and squeeze the lock and let the handle "fall" open locking the blade in the open position. This is my first knife with G-10; it is like micarta made with fiberglass cloth as the base material. It is smooth yet grippy in the hand."
Bill Manger
Oakland, California

Return To RSK Mk4
"Took a little while for me to figure out how to operate the lock with one hand, but it's nifty now that I have the hang of it. Shaving sharp out of the box (I have a bald patch of arm to prove it) and a sturdy construction. Literally pocketable, and not likely to cause a scare in an urban area. Very nice aesthetics, this combined with the solid construction make it a candidate for heirloom status. This is a very nice knife."
Mark Griffin
Rochester, New York

Return To RSK Mk4
"Last week I went hunting to a ranch near Laredo Mexico. I skinned two javalinas with your (RSK Mk4) knife... Several friends of mine have bought a knife like mine because they have seen how well the knife keeps its edge. I love the mechanical design and is small enough to keep in your pocket."
Gene Rodriguez
San Antonio, Texas

Return To RSK Mk4
---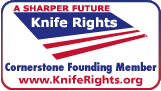 ---
---
Email Doug Ritter
URL: http://www.DougRitter.com/dr_rsk_mk4_comments.htm
First Published on: May 24, 2007
Revision: 03 June 2, 2008