Doug Ritter
RSK® Mk2 Perseverance™ Fixed Blade Utility / Survival Knife
Photographs by
Steve White
- Click photos for larger image.
KnifeWorks.com now offering FREE GROUND SHIPPING in the USA!
The Doug Ritter RSK® Mk2 Perseverance™ is a departure from my usual take on survival gear, which generally leans towards light and compact. The RSK® Mk2 is anything but that, however it does represent my take on the "sharpened pry bar" school of survival knife design. Ethan Becker is widely considered the father of that concept, the person who popularized it, and a close friend, so when the time came to start designing a heavy duty fixed blade Ritter Survival Knife (hence "RSK"), it only made sense to talk to Ethan about the concept. The RSK® Mk2 is the end result.
If you don't need any details and just want to order, click here to go to order page on KnifeWorks.com or phone toll-free 1-888-225-9775.
A portion of the proceeds from the sale of each Doug Ritter RSK® Knife goes to support the non-profit Equipped To Survive Foundation. In addition, for the RSK® Mk2 Ethan Becker is donating his royalty to Equipped To Survive Foundation.
Ethan founded Becker Knife & Tool and popularized the "sharpened pry bar" concept of hard use survival and utility knives starting back in 1980 with his Machax, now a collector's item. He followed that with the Campanion, still in production 23 years later. As I recall, I first broached the subject at the 2002 SHOT Show. As we discussed various options, it quickly became obvious to me that the quickest way to get where I wanted to go was to take all the attributes I appreciated about Ethan's knives and add to it my own design philosophy. I screwed up my courage and somewhat meekly enquired if he'd be willing to collaborate on such a knife. Much to my relief, Ethan said "yes." "Quickest way" turned out to be wishful thinking. Eight years later that collaboration has finally given birth to the aptly named Doug Ritter RSK® Mk2 Perseverance™. As a name for a survival knife, it also rings true. In many cases, the difference between living and dying is exactly that, perseverance.
"Survival masterminds Doug Ritter and Ethan Becker unite and conquer the backwoods with the ultimate in personalized cutting power!"
-- Brian Griffin - Tactical Knives, January 2012 edition
As with the original Doug Ritter RSK® Mk1, one of the guiding principles in developing the Doug Ritter RSK® Mk2 Perseverance™ was to provide an exceptional value. Becker knives already had a well-deserved reputation for providing an incredible price to performance ratio, which has been one of the keys to their success. The challenge was to not mess that up. I am very pleased to be able to say that we succeeded, producing an extraordinary hard use fixed blade knife, a knife you can bet your life on™, at a price that is a good value for a low-rate production blade. That's the rub. You can't do a high quality, low-rate production knife for the same low cost as you can a more mass produced production knife such as Ethan's KA-BAR Becker Knife & Tool knives. I can only hope that you find the unique properties of my Doug Ritter RSK® Mk2 Perseverance™ are worth the extra cost.
Equip 2 Endure: RSK MK2 Interview with
Doug Ritter & Ethan Becker
Equip 2 Endure: RSK MK2 Test and Review

Starting with Ethan's strong design, adapting his basic design elements into the RSK® Mk2 to make this knife my own turned out to be relatively painless. The trademark ergonomic handle scales of the BK&T knives are one of my favorite big knife handles, so there really wasn't much to do at that end of the knife. This molded Swiss GV6H thermoplastic polymer is comprised of 60% glass fibers for the ultimate cobination of strength, durability and light weight (compare this to the more popular Zytel that has 15% glass), well proven in years of field and actual combat use.
I unscrewed the three tool steel screws and nuts holding the handles onto the full tang of the Becker Knife & Tool BK7, removed them and laid the knife onto a piece of paper and traced its outline. I wanted to retain the thumb ramp on the BK7 blade's spine, which I like (and I realize that not everyone does), and the tang extension, so those also got traced. I measure out 6 inches from the handle and drew a line. That went into the copier and I made a bunch of copies to work with.
By my third freehand sketch I had a drop point shape that I found both pleasing to my eye and one that I thought would work well for both field and combat use. I find the 0.250 inch (6.35 mm) thick blade of the Campanion a bit too much of a good thing for me, so I settled on 0.188 inch (4.78 mm) thick steel, same as used on the BK7 and BK9, with a chord of 1.625 in. (42 mm). I made the grind high, as with all my knives, since I wanted this to be a decent slicer. To me, even a sharpened pry bar needs to be a decent slicer, as that's what the knife will still be used for 99% of the time. It's a knife first, pry bar and chopper second.
As it turned out, the grind was almost identical to the 0.250 in. (6.4 mm) wider chord and half again longer BK9 Combat Bowie that has earned an enviable reputation as an incredible chopper and decent slicer. My off-the-cuff calculations determined that any loss of ultimate strength from the higher grind was inconsequential for all practical purposes, particularly given the relatively short blade length, while the improved slicing ability added a great deal to the knife's utility. I sent the sketch to Ethan, waiting for his response with baited breath and fingers crossed.
"The knife is actually quite nimble for its size. The hand-filling grip, neutral balance, and high saber grind all work together to offer good comfort and control, and make precision cutting easy."
-- Brian Griffin - Tactical Knives, January 2012 edition
Ethan basically liked it and we refined the design slightly, moving the tip a fraction of an inch. That was it; the basic design was done. Now it was just a matter of getting some prototypes made. It was the RSK® Mk2 to me, but internally at Camillus Cutlery, who manufactured the BK&T line at the time, it was given a model number of BK12. In any case, getting the prototypes made and the knife into production turned out to be easier said than done, what with other more pressing priorities at Camillus. Then they went belly up just weeks before we were going to start production.
After the dust settled, Ethan eventually licensed the BK&T line to KA-BAR. Getting our collaboration knife produced was an even lower priority for KA-BAR, understandably. Fast forward a couple more years to me starting to lose hope. Then at the 2010 SHOT Show, pressing the issue, again, I elicited an unexpected, but welcome, approval from KA-BAR for Ethan and I to have the knife manufactured ourselves with the only stipulation being that we didn't use the BK&T logo or name (thank you again to John Stitt at KA-BAR) and I immediately ran down Shon Rowen of Rowen Manufacturing, who has agreed to produce the RSK® Mk2 for me. Shon is best known for the TOPS and ESEE knives he produces for those companies. He is a stickler for quality, which works for me just fine.
Call it serendipity, luck or a good eye, I'll take whatever credit I can get, but the prototype looked great to my eye. Off we flew (literally) to Northern Arizona and a forest where we could beat the crap out of the prototypes. We took along a host of production Beckers and other large fixed blades to compare. I and a close friend chopped down pine trees up to six-inches in diameter, limbed tress, split larger wood using a baton and generally tried our best to destroy that knife or discover any weakness or performance shortfall in the design. It shrugged off all this as if it were nothing, pretty much what you'd expect from any design based on a Becker design.
"Their joint creation is a well-balanced combination of Ritter's thoughts on portability, balance and control,and Becker's beliefs on power, strength and durability to withstand the abuse knives often suffer..."
-- Brian Griffin - Tactical Knives, January 2012 edition
As expected, it sliced well, considering the thickness of the blade, and despite its relatively short six-inch blade, proved to be a moderately effective chopper. Better than some of the much more expensive, thicker and often much longer knives to which we compared it. That higher grind and improved geometry was doing its magic, while the full thickness spine still retained plenty of strength. We went home with very sore arms, sore backs, and big smiles. (Having said that, if you want a knife for which a primary use is to be a chopper, the RSK® Mk2 probably is too small and light for you.)
A word about the whole idea of a "sharpened pry bar." Knives are NOT pry bars, that silly moniker notwithstanding. A thicker blade such as this is certainly more resistant to breakage when used for prying or subject to other abuse than a thinner blade, hence the name. However, virtually any blade that will actually be useful for slicing and cutting can be broken if you try hard enough. We warranty the RSK® Mk2 against breakage and we expect some will abuse the knife beyond any reasonable level and thereby manage to break it. Clearly we expect most of our customers to be upstanding and honest and to exercise common sense when using this tool, but regardless of why, if you break it, we'll replace it™.
Doug Ritter RSK® Mk2


Design
Ethan Becker & Doug Ritter
Blade Steel
1095 hardened to 57 HRC
Blade Length
6 in. (15.24 cm)
Blade Thickness
0.188 in. (4.78 mm)
Blade Shape
Wide-Chord Drop Point
Blade Grind
High Flat Grind
40º inclusive edge, 8º bevel
Overall Length
11.375 in. (28.89 cm)
Balance
Variable Perfect Balance™
Weight (full up)
13.2 oz. (374 g)
Weight (w/ all 3 brass plugs removed)
12.8 oz. (363 g)
Tang Style
Full, extends past handle material at rear, lanyard hole
Blade/Tang Finish
Charcoal Gray Powdercoat
Handle Material
Black Glass Reinforced Swiss GV6H
Sheath
Multi-carry Ballistic Nylon w/ ambidextrous molded Kydex liner
*Specification subject to change without notice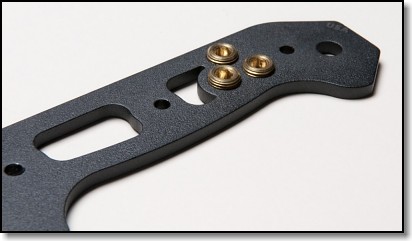 Meanwhile, Ethan was doing his own testing with another prototype and was equally pleased. As I considered if we needed to make any changes, the one issue that kept arising was that of balance. While I prefer a perfectly balanced blade in a knife this size, there are many, such as Ethan, who prefer to have a more tip-forward bias in their larger knives. I could make a good argument for either.

In a moment of inspiration (or perhaps insanity, if you ask Ethan), I came up with an idea that would allow Ethan and I to both have our cake and eat it too, so to speak, without breaking the bank. By drilling and tapping the tang and inserting three brass 1/8-inch NPT tapered plugs I have allowed an owner to customize the balance to suit their particular preference. With all the tapered plugs in place, the balance is neutral. Each brass plug removed (the 3/16" hex key required is not supplied) moves the balance point approximate 0.2 in. (5mm) forward. We've dubbed this "Personal Balance™" and a patent is pending. Ethan thinks it is a bit gimmicky, but I really like it (I may be a bit biased). In any case, you will decide if it's worth the extra effort. It will be interesting to see, once the knives are in customers' hands, what the reaction is and where the majority prefer the balance. (You will need a 5/32" hex key, not supplied, to remove the handles)

Overall length of the Perseverance™ is 11.375 inches (28.89 cm) with a 6-inch (15.24 cm) drop point blade. It weighs in at 13.2 oz. (374 g) full up and 12.8 oz. (263 g) with all three brass plus removed. Without the handles or plugs, it weighs 9.7 oz. (276 g). (Click for a comparison of the RSK® Mk2 and the Becker Knife & Tool BK2 and BK10) Steel is 1095 high carbon steel, heat treated to 57 HRC. This will take a good edge, is very tough and sharpens easily.

Handles are the original BK&T Black Glass Reinforced Swiss GV6H "Grivory." They are pretty nigh indestructible. The KA-BAR BK&T optional Micarta handles fit fine with the brass plugs removed.
"...it is clear to me that the RSK Mk2 can give the user the edge needed to persevere and overcome even the harshest of environments."
-- Brian Griffin - Tactical Knives, January 2012 edition
The entire blade and tang are given a tough Charcoal Gray powdercoat finish. Note that while powdercoat is pretty tough stuff, the finish on the blade will wear and scratch off in use. The knife is laser engraved on the front side with the Doug Ritter-Becker collaboration logo on the blade and U.S.A. on the butt. The reverse side has the ROWEN mark and serial number on the blade and on the butt is the patent pending notice.
The 1095 steel is not rust resistant in the least, so you will need to take appropriate care of the blade to prevent rust, including the laser engraved portions and the threaded holes for the tapered plugs if the plugs are removed. I recommend a dry film rust inhibitor such as Sentry Solutions TUF-CLOTH or TUF-GLIDE, but you can use any rust preventative or treatment you prefer, or none at all. If you do not take precautions, it will rust. Rusting of the knife is NOT covered by the warranty.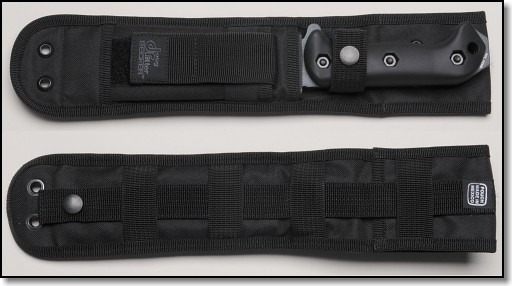 The sheath follows in the Becker tradition, taken up a notch. It is nothing fancy, in part because in my experience better than half of fixed blade buyers won't like whatever sheath you provide, regardless, and will have a custom sheath made for them that's exactly what they want. What you get is a sturdy black ballistic nylon sheath with a heat molded ambidextrous Kydex insert and a storage pocket on the front. The pocket has an elastic top and is big enough to hold an Altoids tin and then some. Sewn onto the flap over the pocket is the Doug Ritter-Becker collaboration logo in gray thread on a black tape. The handle retaining strap has a stiffener in the tab to make it easy to unsnap one-handed. Lashing points are provided top and bottom and the back is Molle compatible. (Click for a list of custom sheathmakers if you are looking for something in leather or Kydex)
The Doug Ritter RSK® Mk2 Perseverance™ is made in the USA. The nylon portion of the sheath is made in Mexico, the Kydex insert is made in the USA (NOTE: the "Made in Mexico" sticker required on the sheath comes right off).
The Doug Ritter RSK® Mk2 Perseverance™ is available exclusively from KnifeWorks for $125.

RSK® Mk2 WARRANTY: Break it, we'll replace it™ for the life of the knife or we'll refund the purchase price to the original purchaser, your choice. Rust, corrosion or discoloration of the 1095 steel and wear from use or sharpening is not warranted. Read warranty details here.
View the instruction and warranty sheet provided with the RSK® Mk2 here.
A portion of the proceeds from the sale of each Doug Ritter RSK® Knife goes to support the non-profit Equipped To Survive Foundation. In addition, for the RSK® Mk2 Ethan Becker is donating his royalty to Equipped To Survive Foundation.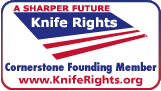 ---
---
Email Doug Ritter
URL: http://www.DougRitter.com/dr_rsk_mk2.htm
First Published on: December 3, 2010
Revision: 07 October 31, 2011


Doug Ritter™, the Doug Ritter logo, RSK, Perseverance and Doug Ritter-Becker collaboration logo are trademarks of Doug Ritter, LLC
© 2010-2011 Douglas S. Ritter - All rights reserved
Check our Copyright Information page for additional information.
Read our
Privacy Policy