Adventure® Medical Kits
POCKET SURVIVAL PAK™ & POCKET SURVIVAL PAK™ PLUS
by Doug Ritter™
Frequently Asked Questions (FAQ)
---
The Adventure® Medical Kits Medical Kits POCKET SURVIVAL PAK™ was developed by Equipped To Survive™ founder and editor Doug Ritter to fill a void in the market; an affordable, truly pocket-sized, high quality pocket survival kit that really could save your life™. Six years later, Doug Ritter introduced the upgraded POCKET SURVIVAL PAK™ PLUS which adds a number of nice-to-have items. The PSP+ still provides an incredible value and still fits in a pocket.
| | | |
| --- | --- | --- |
| | | |
What follows are detailed answers to the the Frequently Asked Questions (FAQ) Doug has received covering both the background and initial development of the POCKET SURVIVAL PAK™ and POCKET SURVIVAL PAK™ PLUS and details about the equipment and components included in the Paks. This latter information, particularly, can help you get the most out of this survival kit in an emergency and help you to be even better equipped to survive®.

Development of the POCKET SURVIVAL PAK™ and POCKET SURVIVAL PAK™ PLUS
---
Doug is the founder, publisher, editor and chief cook and bottle washer of Equipped To Survive® (www.equipped.org), often described as "Consumer Reports for survival gear." He is also the founder, chairman and executive director of the Equipped To Survive Foundation, a 501(c)(3) tax-exempt non-profit organization that supports Doug's work and educational activities (see more on the Foundation below).
Doug grew up in Tucson, Arizona, and spent his youth hiking, horseback riding and backpacking throughout the Southwest. Later in life he took up flying and after his first cross-country flight over the wide-open spaces of his native Arizona he determined that carrying a survival kit would be a good idea, "It struck me as I looked down on miles and miles of empty and inhospitable terrain that if something went wrong and I ended up down there I needed to be equipped to survive on my own, and able to aid in my rescue as best I could." A year of in-depth research led to the assembly of a survival kit that started him down the road to becoming one of the world's leading authorities on survival equipment, and which in updated form he still caries today when flying (he also now offers a commercial version, his Ultimate Avaitor Survival Pak).
Many years later Doug turned to journalism, combining a love of flying with a writing career that continues to this day. His first paid article, for Aviation Safety, was about that survival kit he'd assembled after his epiphany many years earlier. A few articles later he became a contributing editor, one thing led to another, and he soon found himself writing product reviews as a contributing editor of The Aviation Consumer, a subscriber supported, advertising-free sister publication. Between the two publications and freelance articles for other aviation publications, Doug started examining and critiquing much of the life support and survival gear available to pilots, and visiting numerous survival schools in search of more knowledge on the subject. The snowball was picking up speed and growing ever larger.
Involvement in the Aviation Forum on CompuServe in the 1980's, a forerunner to today's Internet, led Doug to combine survival gear reviews from numerous articles into one large file titled "Equipped To Survive" which was made available to download from the forum's library. In 1996, as a relatively early adopter, Doug used that file to form the basis for his Equipped To Survive® Web site.
Doug has written over 250 articles on the subject of survival equipment and techniques for numerous publications, as well as for Equipped To Survive™. He has appeared on numerous TV and radio shows and been quoted in national publications such as The Wall Street Journal. He has trained with both military and civilian survival schools and instructors and completed numerous survival field exercises with a host of government and military organizations.
Doug has been "privileged" to spend over 175 hours on the water in life rafts of various types, much of it on the open ocean, including overnight exercises on a number of occasions. He has shared life rafts during these exercises with other authorities in the field including some real-world survivors, such as Steve Callahan (of "Adrift" fame). Doug has interviewed nearly 120 survivors of aviation, marine, and wilderness survival episodes.
Doug's insightful and often-groundbreaking critiques of survival gear many times result in improvements to the equipment. As an example, the aviation and recreational marine life raft industries were turned upside-down when his reviews revealed serious deficiencies in many rafts. Faced with an educated consumer, virtually every manufacturer has significantly upgraded their product line as a result and the government is now reviewing its aviation regulations to codify many of the performance enhancements that Doug suggested and encouraged.
As a working full member of the S.A.E. Aerospace Council, Aircraft Division, S-9 Cabin Safety Provisions Committee, and the S-9A Subcommittee - Safety Equipment and Survival Systems, Doug participates in the development of standards, procedures and recommended practices for related systems on transport category aircraft. The S.A.E. aerospace documents generated by these committees form the basis for many new, revised and updated TSOs (Technical Standard Orders), ACs (Advisory Circulars), and FARs (Federal Air Regulations) issued by the FAA.
Doug is also a member of RTCM (Radio Technical Commission for Maritime Services) Subcommittee SC110 that develop standards for EPIRBs and PLBs (Emergency Position Indicating Radio Beacons and Personal Locator Beacons) that form the basis for FCC and many international regulations that regulate the minimum performance requirements for these beacons. Doug also helped found the SC128 subcommittee that is developing standard for Satellite Emergency Notification Devices (such as SPOT) and is active with the National Search and Rescue Committee (NSARC) Working Group working to integrate these new devices into the national SAR system. Doug has been an active participant in COSPAS-SARSAT Task Groups and Joint Committee meetings that have developed improved international standards for performance and testing of all 406 MHz emergency beacons, ELTs, EPIRBs and PLBs. Doug's participation in these committees is a direct outgrowth from his emergency beacon testing that revealed serious performance deficiencies in some GPS-enabled emergency beacons and significant loopholes in performance and testings standards for 406 MHz beacons.
In recognition of Doug's efforts, the National Boating Safety Advisory Council (NBSAC), operating under U.S. Coast Guard aegis, commended the Equipped To Survive Foundation, along with sponsors BoatUS Foundation and West Marine, for their combined efforts that identified deficiencies in GPS performance of McMurdo GPS-enabled 406 MHz emergency beacons and subsequent actions to protect boaters from the deficiencies identified.
Doug is the only consumer advocate that participates in these standards setting committees.
Many survival kit manufacturers have upgraded the contents of their kits after one of Doug's reviews. Outdoor and survival gear manufactures routinely send Doug prototypes of equipment for frank feedback, provided free of charge, often resulting in improvements before they reach the consumer.
Doug's articles on land and water survival and aviation life saving equipment evaluations are included in the reference collections of the USAF Survival School and the National Search and Rescue School.
Doug speaks on the subject of survival and about specific survival equipment and supplies at aviation and boating association conventions, shows and events and to various survival and search and rescue related organizations.
Doug also is a paid speaker on the subjects of survival and survival gear to some groups and also works as a paid survival instructor and consultant. As a consultant, Doug helps his clients prepare for expeditions and extended flights and trips into and over inhospitable environments and assembles custom survival kits. Clients purchase virtually all gear at retail, or Doug does so on their behalf, so that Doug is not beholding to any manufacturers.
Doug is also the founder and Chairman of Knife Rights, dedicated to a sharper future for all Americans.
More details on Doug at: www.equipped.org/dr_bio.htm.
---
Equipped To Survive® is a free online publication offering product reviews of survival equipment, supplies and survival kits as well as information on related survival techniques covering the wilderness, marine, aviation and urban environments. It is supported almost entirely by Doug Ritter with some contributions from the public and does not accept advertising from equipment manufacturers.  (Please note that this is not a "survivalist" Web site).
The Survival Forum™ on ETS is a place for those interested in the subject of survival and survival gear to come together online and exchange ideas and information. It is a moderated international community that encourages civil discourse with strict rules that prohibit personal attacks and spam.
Today the ETS Web site contains approximately 10 gigabytes of data, 700 static pages of articles, 2,500 images and over 600,000 words on the subjects of survival and survival gear. The site receives an average of 65,000 unique visitors a month who stay for an average of just over 13 minutes each. It delivers an average 250,000 page views each month and is linked to from over 550 other sites.
One of the most common questions Doug receives is "how do you make money with Equipped To Survive?" The succinct answer is, he doesn't--not directly. It was started and continues today to be a labor of love. However, some of the articles on ETS start out as paid commissions for commercial subscriber-supported consumer publications. Thus, Doug is compensated for some of the research he does. The lack of any space restrictions often allows Doug to expound upon a subject that he can only touch on for paper publications with limited space. As an example, an industry revolutionizing series of product reviews on life rafts for one publication resulted in 65,000 words on the topic on ETS, making use of all the data that had to be compiled in order to distill it down for conventional publication.
The ETS Foundation was started to help establish a sound financial underpinning for the effort and to enable it to continue to expand. The POCKET SURVIVAL PAK™ was the second of a select and limited number of commercial products that are being developed by Doug to support his efforts and to take advantage of the knowledge that he has gained over the years, to the ultimate support of the Equipped To Survive® Web site. A portion of the kit sales price is paid directly by Adventure Medical Kits to the Equipped To Survive Foundation.
Equipped To Survive® and the Equipped To Survive logo are registered trademarks owned by Doug Ritter, licensed for the use of the ETS Foundation.
---
The Equipped To Survive Foundation is dedicated to saving lives by:
Raising awareness of potential survival emergencies
Promoting preparedness as the key to surviving life-threatening circumstances
Performing research and offering objective information to allow intelligent selection of effective survival equipment and supplies
Providing education in practical survival techniques and procedures
Encouraging development of new and improved survival equipment, supplies and techniques
Equipped To Survive Foundation, Inc. is a 501(c)(3) tax-exempt Non-profit Corporation. The mission statement above outlines the Foundation's principle aims. Its core constituency includes the general public as well as the government and search and rescue communities. Its areas of interest include the urban, wilderness, aeronautical and maritime environments.
The Foundation solicits grants and contributions to fund research and educational projects and to support the continued operation and expansion of the Equipped To Survive® Web site as its primary ongoing educational outlet.
More information of the Equipped To Survive Foundation can be found at www.equipped.org/etsfi.htm.
---
For over a decade I have been evaluating personal pocket-sized survival kits. You can read reviews of virtually all such kits to hit the market this past decade, a few of which are no longer available, at www.equipped.org/prsnlkit.htm.
A pocket survival kit is the most basic complement of survival gear; a step beyond simply carrying looses items in one's pockets. It has the advantage of combining the most critical basic survival gear into a convenient sized package that is easy to carry and thus will, theoretically, be with you when needed, even if all your other equipment is lost. As I have often said, "if it isn't with you, it can't save you™," a basic truth that you can only rely upon gear that is on your person, not strapped on or otherwise carried, to say nothing of the uselessness of gear left behind because it is too cumbersome or inconvenient to carry.
The bottom line is that after over a decade of critiquing these kits, I hadn't found a single one that was both affordable and that I felt I could recommend without significant reservations. I eagerly looked at each new affordable kit in hopes that it would make the grade, but none did. It was very frustrating. It seemed like the only solution was to take the next logical step; a huge step, really, and a bit frightening, to be honest.
Had someone else come out with an affordable pocket size kit that included quality components, you'd likely not be reading this missive.
---
Ever since we first introduced the PSP in 2004, customers have been asking for an upgraded kit, one that would be more fully equipped and include many of the components I suggested they should carry, but which were not included in the PSP. The biggest issue was cost. When people encourage you to do something better, they don't normally take into account the cost of doing so, or they at least underestimate the cost. Such a kit, with quality components I would be willing to stake my reputation on and which would really help save a life, would more than double the cost of the PSP and, quite frankly, we weren't sure that customers would be willing to pay that much. The thinking went that those folks most likely to want a better equipped kit would be the same ones who prefer to assemble their own or supplement the PSP. So, the concept languished for a number of years, occasionally surfacing for another look and then it go away again.

With the continued success of the original PSP, even as its price rose significantly due to increased costs, late in 2007 AMK decided they wanted to do an upgraded kit, for real this time. That it took over two and a half years to bring this kit to market is indicative, in part, of the difficulty in sourcing just the right components at the right price. While the upgraded kit would cost much more than the original PSP, we also didn't want to have a $100 kit. It would only work if we were able to provide an excellent value and we were aiming for a street price of less than $75, otherwise we were concerned it simply wouldn't fly. For myself, quite frankly, I was concerned it still might be too expensive, but AMK was confident.

Relatively early on we determined that at least three key components, perhaps four, would have to be developed from scratch to have the performance we needed at a price that would keep the upgraded kit within bounds. Two of them would only work if they could be turned into separate commercial products, giving life to the Columbia River Knife & Tool RSK Mk5™ knife and Essential Gear PICO™ Lite LED flashlight. You can read below the details of the trials and tribulations of the development of these components.

The pouch and the water bag were the other candidates for specially developed components and the water bag was dropped fairly quickly due to very high minimum quantity and cost issues if we wanted a custom design. That left the pouch, which in the end proved the most difficult of all (see below for details).

Early prototypes of what we now referred to as the POCKET SURVIVAL PAK™ PLUS were shown to select retailers and media at the 2009 Winter Outdoor Retailer Show and they responded with serious interest. It was officially announced at the 2009 Summer Outdoor Retailer Show and initial orders exceeded my expectations. That began the final press to get the kit finished, but it would still take over a year to finally deliver the new POCKET SURVIVAL PAK™ PLUS.

The original POCKET SURVIVAL PAK™ remains the best survival kit at its price point of under $35, which was our goal. With the PLUS version we sought to answer the question, what kind of pocket-sized kit could we build that would greatly enhance the serious outdoor enthusiast's ability to survive, if price weren't as much of a factor? The POCKET SURVIVAL PAK™ PLUS is the result.

Designing and even producing a quality personal survival kit with no budget constraints would be relatively easy, if not exactly simple. Doing so while keeping the retail price affordable is the trick. I had no interest in developing an expensive kit only a few could afford. My only interest was in a kit most people could afford and that would be worth betting one's life on. I also wasn't going to produce something just to generate income, prostituting my good name. If I was going to put my name on a survival kit, it had damn well better be able to save a life. That precluded a cheap kit; quality doesn't come cheap. "Affordable" was the goal.

I'd never been inclined to try this myself because I knew I was not cut out for manufacturing or selling it. I'd been there and done that in another industry; and hated it. If this kit was to become a reality, someone else would have to do it.

Perhaps even more important, vis-à-vis this goal, I could never reach the critical mass quickly enough to get the costs down so that it would be affordable (and let's not even discuss the lack of capital). I recognized that even before we got started on this project and I really gained an understanding of the costs involved. I now know for sure it would have been impossible.
---
The genesis of the POCKET SURVIVAL PAK™ came in a chance meeting with Frank Meyer, one of the co-founders of Adventure Medical Kits, at the 2001 Rotor & Wing Search and Rescue Conference. As it turns out, it was the first and only time AMK exhibited at the conference. Frank mentioned that he had made considerable use of my Equipped To Survive™ site in developing their original Essentials Series survival/medical kits. At some point I commented that while they were pretty nice kits with quality components, they were still too big and bulky to be considered a personal survival kit from my perspective. One thing led to another and it wasn't long before we were in earnest discussions over lunch about what such a kit would involve. The seed was sown.
It took another six months for me to get comfortable with the idea of collaborating on a commercially produced pocket survival kit and to wade through all the legal details.
Assembly is always a choke point for something like this, let alone distribution and sales to gain the necessary volume. AMK had the reputation for quality; I have known its products to be top-rate for years and it had the resources needed to bring such a kit to market. It seemed like a good fit.
A bit over two years later, the PSP saw the light of day. It was quite an education for me in how costs of components, labor, distribution and overhead are translated into retail prices. It's easy to see why nobody has been able to do this before, there's not much budget to work with to maintain an affordable retail price. It took a company like Adventure Medical Kits, a fair amount of innovation on both our parts and some dogged persistence to make it happen.
---
Certainly not with regards to the original POCKET SURVIVAL PAK™. The POCKET SURVIVAL PAK™ PLUS is much closer to "ultimate."
While those of us with experience in this field could argue endlessly about what might be included in such an "ultimate" kit, you can be certain of one thing; the "ultimate" pocket survival kit would not be cheap--it would not be affordable to the average person.
The goal was a pocket size kit that was good enough to save lives in a short-term survival situation, compact and light enough that it wouldn't be a burden for anyone to carry under almost any circumstances and affordable enough that everyone in a group could carry their own. The "personal" in personal survival kit means exactly that, and as I have often said, "if it isn't with you, it can't save you™."
A design goal of the original POCKET SURVIVAL PAK™ was that the kit would not contain any life-limited items. This inevitably requires that some otherwise desirable items be left out, such as water purification tablets, flashlights and medicines. With the POCKET SURVIVAL PAK™ PLUS we moved away for that restriction, and that allowed us to include more of these desirable components, albeit at higher cost.
So, these aren't the "ultimate" pocket survival kits, but I do think each represents the ultimate value in a kit of this size, a lot of bang for the buck; a lot of lifesaving capability for the buck.
---
First, a list of the contents of the two kits:
Click image for higher resolution photograph
of the Pocket Survival Pak™
Click image for higher resolution photograph
of the Pocket Survival Pak™ PLUS
Component
PSP
PSP PLUS
Spark-Lite™ Firestarter - current U.S. military issue, waterproof, useable one-handed, over 1000 sparkings in tests
Fox-40® Rescue Howler™ Survival Whistle - originally designed exclusively for this kit, triple frequency, exceeds U.S. Coast Guard and SOLAS specifications, bright yellow with dual mode lanyard capability
Rescue Flash™ Signal Mirror, 2 x 3 inches (5 x 7.6 cm) Lexan™ polycarbonate with mil-spec style retro-reflective aiming aid for one-handed use, instructions on back, protective cover to prevent scratches while stored in the kit, lanyard hole.
20mm Survival Compass - liquid damped with groove to accept an improvised lanyard ring
Duct Tape - 26 inches x 2 inches (66 x 5 cm), rolled around plastic mandrel, repairs, first aid, the ultimate repair and improvisation component, uses limited only by your imagination
Stainless Steel Utility Wire - 6 ft. of .020 inch (1.83 m x 0.5 mm) mil-spec grade, stronger than brass, won't get brittle in frigid cold, multiple uses
Braided Nylon Cord - 10 ft. (3 m) 150+ lb. (68+ kg) test, won't unravel, shelter building, repairs and much more
#69 Black Nylon Thread - 50 ft. (15.2 m), 10.5 lb. (4.8 kg) test, repairs, fishing line, light duty lashing and much more
Heavy Duty Sewing Needle - will penetrate heavy materials, easy to grip, large eye for easy threading
4 Safety Pins - repairs, secure items to prevent loss and much more
Heavy Duty Aluminum Foil - 3 sq. ft. (0.9 sq. m), cook, reflect fire heat and much more
#2 Pencil and Waterproof Notepaper - 2 pieces 2.125 x 3.667 inches (5.4 x 9.3 cm), leave notes, memory aid, keep log
#22 Scalpel Blade - stainless steel, in sealed foil packaging, more functional than a single-edged razor blade
Kit Specific Illustrated Survival Instructions - authored by Doug Ritter, 33 illustrations, on waterproof highly tear-resistant synthetic "paper", detailed, easy to understand, practical information
Contents List - annotated, complements Survival Instructions, can be used as tinder
Fresnel Lens Magnifier - 2 x 3 inches (5 x 7.6 cm), in protective sleeve, read small type in survival instructions if glasses lost, start fire using sun
Pocketsize Clear Vinyl Pouch - 4 x 5 inches (10.2 x 12.7 cm), 4 x 3.25 inches (10.2 x 8.3 cm) with top folded over, waterproof zip-top closure, lanyard hole, it really does fit in your pocket.
CRKT RSK® Mk5 Survival Knife – designed by Doug Ritter, compact, ultralight, but robust stainless steel fixed blade use for fire making, building shelter, etc., compact fiberglass reinforced nylon sheath can be hung from Ball Chain or slipped in a pocket
eGear PICO™ Lite LED Flashlight – designed by Doug Ritter, secure twist switch with lockout tab, use for nighttime activities and signaling, use mini-carabineer clip to prevent loss. Up to 15 hours run time. Batteries are replaceable.
Sterile Water Bag – 1 qt. / 1 liter lab quality gusseted, collapsible, water storage bag with resealable closure
Katadyn® Micropur MP1 Water Purification Tablets – Six tablets individually sealed. 1 tab treats 1 qt/1 liter of water.
CAUTION! Use only in accordance with Supplemental Survival Instructions
28" Stainless Ball Chain – use as a neck lanyard or security lanyard for survival gear or for gear repair
Supplemental Survival Instructions - authored by Doug Ritter, on waterproof highly tear-resistant synthetic "paper", illustrated, detailed, easy to understand, practical information on the PSP+ specific components
Pocketsize Pacific Outdoor Equipment PNUEMO ZIP Waterproof Pouch - 4 x 5 inches (10.2 x 12.7 cm), 4 x 3.25 inches (10.2 x 8.3 cm) with top folded over, waterproof zip-top closure, Don't-Lose-Me bright orange 40D ripstop back and Clear TPU front make the PNEUMO ZIP pouch light but tough. Rated waterproof to 3M for 1 hr. Pull tabs make it easy to open. Zipper access to back storage. Retro-reflective trim for night visibility. Lanyard loop for security. Still fits in a pocket
WEIGHT - you will barely know it is there until you need it to save your life
3.9oz
111g
5.9oz
170g
Details about each of the components:
= Included in the POCKET SURVIVAL PAK™
= Included in the POCKET SURVIVAL PAK™ PLUS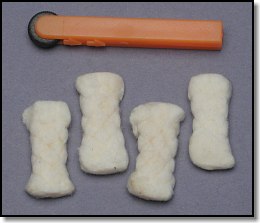 Spark-Lite™ & Tinder-Quik™:


I wanted a reliable and compact firestarter. Fire is just too critical to have anything but the best that would fit our packaging limitations. Ideally, it should be able to be operated with one hand and reliability concerns precluded matches and lighters. It had to be waterproof and we needed waterproof tinder to complement the firestarter.
The Spark-Lite™ is the current U.S. military issue firestarter. For the military it is packed in a small plastic matchbox size box with non-waterproof instructions and 8 pieces of tinder, available in OD or bright orange. We got rid of the box, included 4 pieces of tinder in a plastic zip-top bag and added the instructions to the waterproof POCKET SURVIVAL PAK's™ Survival Instructions. We selected the orange version, so it is less likely to be lost if dropped.
This is an artificial (ferrocium) flint and steel firestarter, completely waterproof. If it gets wet, just shake off the water and it's good to go.

One of the Spark-Lite's™ big advantages is that it can be used one-handed, unlike most traditional flint and steel firestarters. The other choices for one-hand operable firestarters include: Ultimate Survival's Blast Match and Sparky, both of which are far larger and heavier, the former weighing as much as the entire PSP, and the variations on the Spark-Lite™ that have come on the market since the patent was lost on the original in 2008: the brass-bodied TAD Gear Survival Spark, which is 80% again heavier and significantly more expensive, and Adventure Medical Kit's own knock-off, the Fire Lite, which is made for them in China and is 40% again heavier.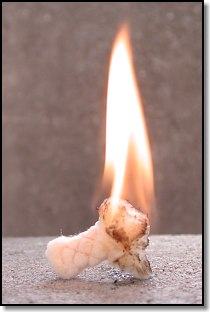 Just rotate the sparking wheel of the Spark-Lite™ in the direction of the arrows and get a shower of sparks. It's not unlike using a traditional lighter; the steel wheel and a flint rod under spring pressure do the job, but it generates a lot more sparks. It is rated for hundreds of sparkings and some random samples have been tested to over 1000.
The Tinder-Quik™ waterproof tinder is quick and easy to use, just pull it apart some to expose the finer wax-impregnated cotton fibers and it's ready to accept the spark. No need to waste time and effort shaving magnesium with your knife, nor do you then have to collect the small shavings, especially difficult if it's windy. It has an unlimited storage life and doesn't need to be kept in sealed airtight packaging, unlike Ultimate Survival's WetFire brand tinder. Each piece of tinder will burn for two to three minutes.
In the September 2003 issue of Backpacker, John Kemple's review of fire starters rated the Spark-Lite™ as "Best Buy" and "overwhelming favorite," mirroring the high ratings I've always given it. (see: www.equipped.org/firestrt.htm)
Another review: www.oldjimbo.com/survival/sl.html
The Spark-Lite™ & Tinder-Quik™ are made in the U.S.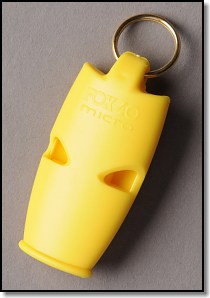 Fox 40 Rescue Howler™ Whistle:


When we started developing this kit, it was obvious that we needed a compact whistle; there wasn't room for a full-sized one. Too many cheap kits include insubstantial novelty whistles that don't perform well or stand up to any abuse, not something to which you'd want to trust your life. Metal whistles can present problems in cold weather; potentially freezing to a survivor's lips, so they were also out of the question. The whistle had to be as loud as possible for the size, it had to be robust enough to stand up to abuse and it preferably would exceed U.S. Coast Guard and SOLAS (Safety Of Life At Sea) specifications.
There were only two possible choices available that both fit the size requirements and met my minimum standards for performance and quality, the Acme 636 "Tornado" or the ACR "WW-3 Survival Whistle." Both performed adequately, but neither had close to the performance of a Fox 40, the best performing conventional size whistles available. For years I've carried in my pocket a Mini-Fox 40 with the side plates cut down, resulting in a pocket-sized whistle. However, even so modified it was not small enough for our purposes. I spoke with Foxtron, manufacturer of the Fox 40 line and discovered that they had actually considered making a slim whistle, had even done some prototypes, but the project had languished on the back burner for some time.
Timing is everything and it was the right time to ask. My query, combined with the accompanying potential of a ready market for significant quantities of the whistle, was enough to move the project to the front burner. Now, all they had to do was develop a better performing whistle at a size that would fit in the kit and for a price we could afford.
The better part of a year later I was shipped a prototype. Its performance was very close to that of the full-sized Fox-40, they got that part right. Unfortunately, for our purposes at least, they got carried away with some design considerations for the mass market that resulted in a whistle a full 3/4-inch too long for our purposes. The basic whistle wasn't too long, just the integrated carabineer style clip that they felt would give them a marketing edge. It sure did look sharp, I couldn't argue that, but there was no way we could get it to fit. Would they make a special version just for us that was shorter with just a lanyard hole on the end? A sub-compact version of the compact whistle? Pleeeeeeeeeease!
In a not inconsequential vote of confidence in the POCKET SURVIVAL PAK™, they agreed to make us a special whistle. They even managed to add the feature of a dual-carriage lanyard hole so that the lanyard can be threaded side to side for comfortable flat carry around the neck, or it can be attached through a center slot for traditional or key chain carry. Either the heavy-duty nylon thread or the braided line in the PSP will work as a lanyard. Subsequently they have changed to a combination of a hole and split ring, which accomplishes the same thing, albeit nat quite as elegantly, but it made it more saleable to the general public.
The Fox 40 Rescue Howler™ is a three-chamber, triple frequency whistle with the highest decibel level of any "slim" style whistle. The frequencies are:
3934.61Hz
4087.36 Hz
4237.93 Hz

As for loudness, when measured in the same manner to the same weighted db scale (there is no industry standard), the Rescue Howler™ achieved a db rating of 110. This compares to the Fox 40 Classic and Mini-Fox 40 at 115 db and the Acme Tornado at 107 db.
Bear in mind that decibels are measured on a logarithmic scale, so that each decibel of difference is significantly more than the db numbers suggest on their face.
This is all well and good, but the true test is in the blowing and in field tests I conducted the Fox 40 Rescue Howler™ was substantially louder than the Acme and ACR whistles and could be readily heard from approximately 20% further away under a variety of circumstances. That's an increase worth blowing your horn about, if you'll pardon a bad pun.
The Fox 40 Rescue Howler™ is made of tough ABS (Acrylonitrile Butadiene Styrene) polymer in bright Rescue Yellow so it will not be easily lost if dropped.
Like all the Fox 40 designs, it is pealess, so that it is utterly and completely reliable. It instantly blows free any water if immersed and has no chamber to collect water that could freeze.
The whistle incorporates a number of Foxtron's patents and other patents are pending.
Adventure Medical Kits offers the Rescue Howler™ in a "Bonus Two Pack" for an MSRP of $9.00
This whistle is now widely available as the Fox 40 Micro, but the Rescue Yellow color remains exclusive to Adventure Medical Kits.
The Fox 40 Rescue Howler™ is made in Canada.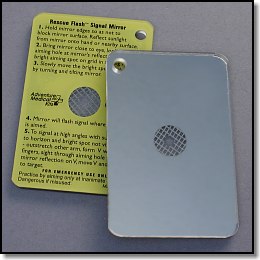 Rescue Flash™ Signal Mirror:


No item of gear for these kits created more challenges than the signal mirror. I was determined that the kit have a "real" signal mirror, one with a modern, mil-spec style, retro-reflective aiming aid that allows easy one-handed aiming. None of the misrepresentation, from my point of view, of calling a mirror without an integral aimer a signal mirror. Yes, any mirror can be used for signaling, using the two-handed aiming method, but so can anything reflective; they are a signal mirror in name only.
Also, no lining up a dot on your face viewed in the reflective back side of the mirror with the aiming hole either; this style aimer is awkward at best and can be difficult to use. It's an anachronism from before there was a better technological solution. It had to be a retro-reflective aimer where all you need to do is align the "hot spot" in the aimer with the target in order to flash it.
Click here for illustrated instructions on how the use the one-hand aimable Rescue Flash™ Signal Mirror
It also had to perform well, with a signaling range appropriate to the job. Glass, the best performing material for a signal mirror, was out of the question because of its weight and fragility. It would have to be plastic, and that posed its own share of challenges.
Commercially available plastic mirrored material is, at its best, less reflective than glass, and much of it is a good deal less reflective. While the best hand-made plastic mirrors by Rescue Reflectors approach the performance of glass, even they do not equal it and each is hand tweaked for optimal performance. Each also costs more than the entire Pocket Survival Pak™.
Mass-produced molded plastic mirrors, such as the Ultimate Survival Star Flash, a consumer market version of a current mil-spec mirror, are less effective than glass, but their reduced performance is still adequate and it is an acceptable exchange for the benefits that come from plastic--lighter weight and virtually unbreakable. Unfortunately, the cost for this mirror was still prohibitive and, besides, they were too thick to easily fit in the kit.
Other plastic signal mirrors we examined were all deficient in one way or another. We eventually came to the conclusion that if we wanted a decent performing signal mirror that would fit in our kit at a price we could afford, we'd have to develop and produce one ourselves, offshore.
Thus began another yearlong odyssey. Numerous prototypes arrived from a number of potential suppliers in Asia, many of which were so far from what was acceptable that at times we were very nearly ready to give up in frustration. We finally received a prototype that worked, a near duplicate of an old-fashioned mil-spec glass mirror done in polycarbonate.
The only problem was that it was too thick to fit inside the kit. The next iteration was half the thickness, with the expected somewhat lower level of performance, though still quite adequate, and better than almost any other plastic mirror available. The problem was that it was so flexible that simply gripping the mirror too tightly while signaling would cause distortion that would cut down on its performance. The third time, like they say, was the charm. Slightly thicker, it was much more rigid and the performance was better, virtually equal or better than the current mil-spec mirror in signaling performance, and in a thinner package.
In field tests under less than optimum conditions (December, signaling from an urban location with less than pristine atmospheric conditions, in other words a fair amount of smog) the 2 x 3 inch (5.1 x 7.6 cm) Rescue Flash™ signal mirror was visible to an observer at approximately 3500 feet above ground level (AGL) in a light aircraft from a distance of 23 miles and was readily noticeable from 2000 ft. AGL at 15 miles. From a practical perspective, this means that if you can see a search aircraft, it will be able to see your mirror flash. It also means that you can signal the horizon or a distant ridge with a decent chance that some person or aircraft you cannot see may see your signal if they are there, out of sight.
The retro-reflective fiberglass mesh in the aimer provides a bright and distinct "hot spot" for aiming. The see-though mesh makes it far easier to aim than mirrors with more obscured retro-reflective aimers, such as the ACR Hot Shot, or a solid cut-out form, such as the StarFlash.
We also tested the mirror in an environmental testing cabinet from minus 40° to 176° F (-40° to 80° C).
The double layer design ensures that the mirrored surface and aimer are protected and cannot be damaged. The instructions on the reverse of the mirror are sandwiched between the layers of polycarbonate, providing protection from being scratched or obliterated.
These instructions were tested on numerous naïve subjects. We tried a variety of pictographs in an attempt to avoid text instructions, but found that many naïve subjects simply didn't get it, while the written instructions were nearly universally understood. Space limitations on the small mirror prevented us from using both.
Obviously, non-English speaking survivors would be at a disadvantage, but that also holds true for the Survival Instructions themselves, so we decided this was an acceptable compromise. We will continue to investigate alternative means of providing instructions, but for now, this is it.
Even the best aimer has only a limited range of effectiveness, so I also included instructions for aiming using the two-handed method. This allows a survivor to hit targets at higher angles off the sun or for other group members without their own signal mirror to use any reflective item as an additional improvised signal mirror.
The polycarbonate mirror face is protected to prevent scratching in storage. It can be removed and replaced so that a purchaser can practice with the mirror.
The brightly colored background on the mirror back makes it easier to find if dropped and the high contrast makes the instructions easy to read. There is also a lanyard hole for added security as the mirror is not inherently buoyant.
All in all, I am very pleased with this mirror's potential lifesaving performance in an affordable and appropriately sized form factor. Adventure Medical Kits also offers the Rescue Flash™ Signal Mirror as a separate product, on its own for the suggested retail price of $9.00.
The Rescue Flash™ Signal Mirror is made in South Korea.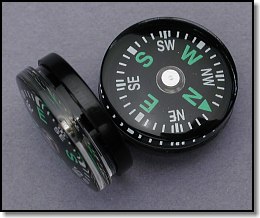 20mm Button Compass:


As with much of the gear in the kit, we tested a number of companies' products until we found an affordable compass that was reliable. With a 20 mm (0.79 in.) diameter, our button compass is large enough to be useful for basic wayfinding purposes. It is liquid damped for ease of use, but the magnetism is powerful enough that it reacts reasonably quickly. The groove around the midsection can accept an improvised lanyard ring made from the POCKET SURVIVAL PAK's™ included wire or thread.
Test units survived numerous flights to above 10,000 ft and back down in a Cessna 182 until we were satisfied that they generally didn't develop a bubble, one of the Achilles heels of liquid damped compasses. (In case your compass, or any liquid damped compass, does develop a bubble, click here for what to do.)
The Compass is stored away from the ferrous metal components of the kit (the stainless steel wire is non-magnetic). (Please note that in some early production kits the scalpel blade was incorrectly placed under the compass and the surgical stainless steel used in that blade for improved edge-holding will affect the compass to the extent that it will appear not to work when stored in the pouch. Click here for what to do.)
The 20MM Button Compass is made in China.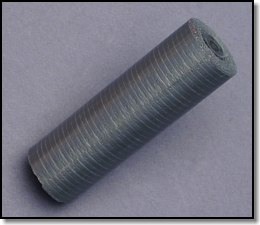 26 inches (66 cm) of 2-inch wide Duct Tape:


It's been said that if you can't fix it with duct tape, it isn't really broken. Duct tape is one of the most versatile items you can have on hand in many emergencies. It's much more useful than the 3/4-inch (19 mm) electrical tape used to seal some other kits. And, unlike other pocket kits that include only 3.5 or 12 inches (9 – 30 cm) of duct tape, we include over two feet. That's enough to be really useful, as opposed to just being able to patch a small hole or mend a small tear.
This tape has proven itself up to the task in the field for short-term repairs and resistant to degradation in storage from extremes of temperature (as much as any duct tape is, at any rate; we can't work miracles). AMK assembles these rolls themselves from bulk packaged large rolls of tape. It is wound around a 1/4-inch diameter plastic tube. The grade of tape was selected as a compromise between a heavy industrial grade or mil-spec grade tape that is much thicker and would have allowed less than half as much in the same size roll and the very lightweight consumer grades that do not have as much tensile strength or as strong an adhesive.
The Duct Tape is made in the U.S.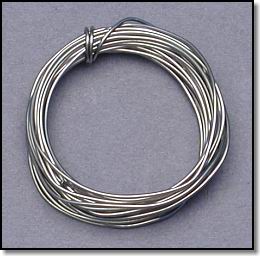 6 ft. of .020 inch Stainless Steel Utility Wire:


This is mil-spec grade safety lock wire (Type 302/304 MS20995 C 20) as commonly used on aircraft, spacecraft and race cars. It is stronger than brass wire, both in tensile strength and in resistance to fatigue, so it is less likely to break in use or in twisting. It is also less subject to embrittlement in very cold conditions. Being tougher, it can be more difficult to break if the survivor has no wire cutters (multi-purpose tool -  Leatherman, etc.), so instructions for breaking it are included in the annotated Contents List.
The Stainless Steel Utility Wire is made in the U.S.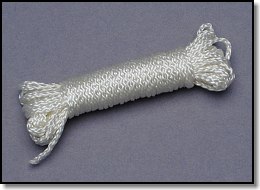 10 ft. of Braided Nylon Cord:


This braided nylon line is rated a minimum 150 lb. (68 kg) test. While some of the line we tested went as high as 205 lb. (93 kg)  test, we chose to list the lower number to be on the conservative side in case suppliers change.
Poly line is cheaper, but not nearly as strong. Twisted line is cheaper, but unravels badly when cut and isn't as strong.
The Braided Nylon Cord is made in China.

50 ft. of #69 Black Nylon Thread / Fishing Line:


This is heavy-duty nylon thread, not cheaper and weaker polyester. At a minimum of 10.5 lb. (4.8 kg) test, it is strong enough to double as fishing line. I've caught some nice sized fish using this line and the rest of the fishing gear in the kit.
The #69 Black Nylon Thread is made in China.
Fishing Kit:


The fishing kit is contained in a clear plastic vial with a press-fit cap. The fishing kit includes 4 medium Fish Hooks, 2 Removable Split Shot and 1 Snap Swivel. These are stored in a plastic zip-top bag to prevent rattles.
The decision to include the fishing gear was not easy. One could easily argue that it is relatively unimportant in the grand scheme of things for a kit designed primarily to help support someone for a brief survival experience where sustenance, food, isn't much of an issue.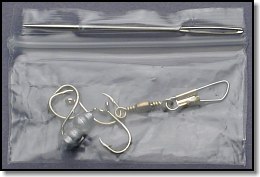 In part, inclusion was a marketing decision based on the fact that most pocket kits include some fishing gear. It's expected. And, there are plenty of hard-earned lessons in business that you ignore consumers' expectations at your peril. When I researched what to include in my kit and how to set priorities for inclusion by surveying potential customers, a fishing kit was almost always on the list. Luckily, the cost of including fishing gear is relatively minuscule compared to almost everything else in the kit.
There is also another aspect to this. Having taken care of the basics such as medical issues, fire, shelter and signaling; a survivor is often faced with a potentially demoralizing psychological crisis--boredom. Fishing is one way to combat boredom, and again, it costs little to provide this therapeutic "escape."
Some of this fishing gear can also be used for small game and bird snares.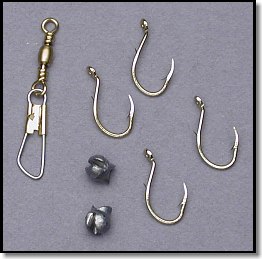 Having decided to include some fishing gear, we decided to incorporate more than the one or two fish hooks commonly provided in many pocket survival kits. The assortment provides enough gear to get the job done, even if you lose a few pieces.
Fishhook size was selected to catch smaller fish within the weight range the tackle should be able to deal with. As the old saw goes, you can catch a big fish with a small hook, but you can't catch a small fish with a big hook. But, too small is only asking to be frustrated. They are bait hooks because that's the most likely way they will be used.
It was decided that a snap swivel should be included, despite the high cost relative to the rest of the fishing gear, as a result of advice from those more experienced than me who insist that a swivel makes for much more effective attraction of the fish when using improvised lures. It just makes sense to follow the advice of those with the expertise, so we did.>
The Fishing Kit is assembled from components from the U.S. and China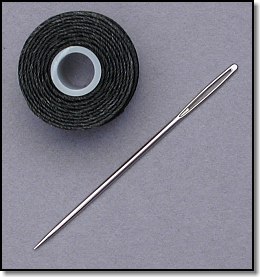 Heavy Duty Sewing Needle:


Large enough to penetrate heavier materials and able to be used while wearing gloves, this needle also boasts a fairly large eye making it easier to thread. The needle is stored in the plastic vial, secured to the plastic bag of fishing gear to keep it from rattling and getting lost.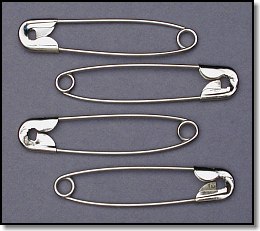 4 x Safety Pins:


A safety pin is often the most expedient way to repair clothing or gear. It is also useful in securing other gear so it doesn't get lost. Instead of just a single safety pin that many kits include, and often a small one at that, we include 4 medium-large safety pins. These are also stored in the plastic vial.
The Sewing Needle and Safety Pins are made in China
(Again, I'd like to emphasize that we have taken extra precautions that the metal objects stored in the plastic vial do not rattle)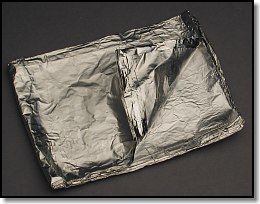 3 sq. ft. (0.91 m) Heavy Duty Aluminum Foil:


Sturdier than standard lightweight foil, ours has enough substance that with care it can be used to form a container to boil water for purification purposes. It can also be used as a reflector behind a fire, to protect dry wood under a fire built on snow (if there's no ready supply of green wood) as well as for many other purposes.
The Heavy Duty Aluminum Foil is made in the U.S.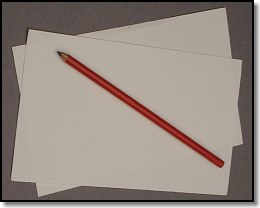 Miniature #2 Pencil and 2 pieces Waterproof Rite In The Rain® Notepaper, 2.125 x 3.667 inches:


Whether leaving a message for rescuers, writing yourself a note so you don't forget something critical, or for keeping a log of your experience, it is a lot better if the paper doesn't turn to mush if it gets wet.
The Rite In The Rain® Notepaper is made in the U.S.
The Pencil is made in China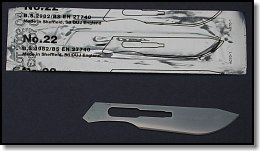 #22 Scalpel Blade:

First off, this is not a substitute for a real knife. The POCKET SURVIVAL PAK™ retail package "BONUS" Insert recommends a good knife always be carried in addition to this PSP (the Doug Ritter RSK Mk1™ I designed would be a good choice, if I do say so myself). However, an ultra-sharp blade such as this can be very useful and it serves as a back-up for your primary blade. This stainless steel blade is packaged in sealed foil, preventing rust and corrosion. It won't rust like the cheap single edge razor blades included in many pocket survival kits. Compared to the single edge razor blade often packed in lesser kits, this blade is more robust and has a real point and belly to the blade for more versatile functionality. The blade can be attached to a piece of branch using the wire in the POCKET SURVIVAL PAK™ to improvise a knife with a handle.
Note that one of the significant differences between the PSP and the PSP+ is the inclusion of a knife in the latter (below).
The Scalpel Blade is made in India.
Fresnel Lens Magnifier - 2 x 3 inches:


The primary purpose of this magnifier is to make it easier to read the relatively small print of the Survival Instructions, particularly if eye glasses or contacts are lost. It will also function as a back-up fire starter, if the sun is out.
The Fresnel Lens Magnifier is made in Taiwan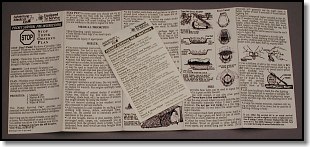 Kit Specific Illustrated Survival Instructions:


Printed on waterproof polypropylene based YUPO synthetic "paper" so it won't turn to mush if they get wet, these were written by me specifically for this kit. The YUPO material is also highly tear-resistant. See specific FAQ question on the Survival Instructions for more on what was included and why.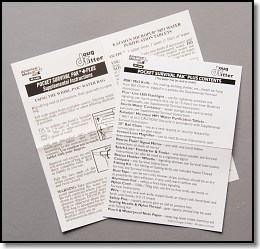 PSP+ Supplemental Survival Instructions:

Also printed on waterproof polypropylene based YUPO synthetic "paper" so it won't turn to mush if they get wet, these were written by me specifically for the PSP+. These instructions cover only the additional components of the PSP+.
To view the included Supplemental Survival Instructions:
All the Survival Instructions are made in the U.S.
Contents List:


This list is visible through the back of the kit pouch in the PSP, so anyone who picks it up will know what is included, even if the original "owner" is unable to assist. It is annotated with suggestions or instructions for use of some of the items and was written by me. On the PSP+ the contents list is inside the back pocket.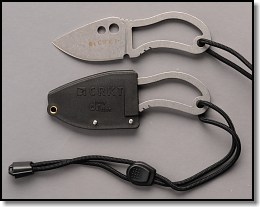 CRKT RSK® Mk5 Survival Knife:

The RSK® Mk5 (CRKT Model 2380) is a compact, lightweight fixed blade knife designed specifically to fit into a small survival kit tin or pouch. The RSK® Mk5 is compact and light enough (0.78 oz./22 g) to fit in almost any small personal survival kit or stash-away location, yet robust enough that it's a knife you can bet your life on™.
A real knife was one of the key upgrade components I needed for the PSP+, to replace the scalpel blade. When I examined existing small fixed blades, there were few that would fit or could be modified to work, but none of them were inexpensive enough. There were a number of small folders that may have worked, and we looked at all of the ones available back then, but all were either too bulky, too expensive or simply not robust enough to provide the capability I was after.
In the end, the solution was to develop my own knife and the story of its collaborative development and production is worthy of a page all by itself--and since the RSK® Mk5 is available as a stand-alone product from Columbia River Knife & Tool, it indeed has its own page. So for lots more details on the development and advantages of this nifty little knife, please click here.
The RSK® Mk5 cannot completely replace a full-sized knife, but it will perform the tasks of a much bigger knife, if used intelligently. It is a capable back-up for the knife you normally carry, just in case. You should always carry a good knife. The Doug Ritter RSK® Mk1 I designed would be a good choice, if I do say so myself.
The CRKT RSK® Mk5 is made in China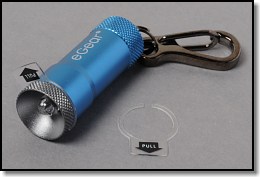 eGear PICO™ Lite LED Flashlight:

Another addition I wanted for the PSP+ was a flashlight. In my experience, all too many emergencies occur at night and even more extend into the night. Having a light handy can make a huge difference.
A review of all the lights available when we started this project showed there wasn't a single one that provided all those key attributes. Only a handful were small enough and had acceptable reliable switch designs and the few that did either presented reliability, cost or other insurmountable problems. That search eventually led me to hook up with the good folks at Essential Gear who were enthusiastic about developing a light that would meet my criteria and would also fit into their line of eGear® LED illumination products. That would provide the mass market/production potential needed to drive down the cost of the light, a key element in making this practical.
The end result was the PICO™ Lite that projects a powerful 10 lumen beam up to 30 feet from an ultra-compact and tough cylindrical aluminum body weighing just two-tenths of an ounce. There's nothing particularly fancy or exotic about the PICO™ Lite, no advanced electronics or 20-zillion different functions, it's just a very simple and reliable and inexpensive super-small LED flashlight with a simple, reliable twist style switch. As we have come to describe it, the PICO™ Lite is the "littlest big light you ever saw™." I chose a bright blue color to make it easy to find if dropped.
The PICO™ Lite won Field & Stream's 2010 Best of the Best award, with tester Mike Toth noting that "It survived my drenching and slamming tests and is practically impossible to turn on accidentally..." In order to ensure the light wouldn't be inadvertently switched on inside the kit, the PICO™ Lite used in the PSP+ is exclusively equipped with a plastic Battery Protector Tab between the head and the body. The tab must be pulled out in order to screw in the head to switch on the flashlight.
The PICO™ Lite, as noted, is available separately as part of Essential Gear's LED flashlight line and you will find a good deal more details on this handy little flashlight on its own product page. So for more details on the development and advantages of the PICO™ Lite, please click here.
The PICO™ Lite uses 4 x LR41 batteries with a 5-year nominal replacement interval. Affordable replacement batteries are available online from Essential Gear dealers or at: www.EssentialGear.com.
The Esssential Gear PICO™Lite is made in China with a Japanese LED.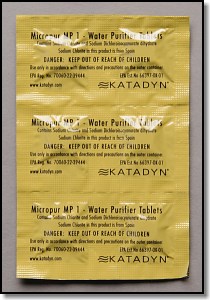 6 x Katadyn® Micropur MP1 Water Purification Tablets:

These Chlorine Dioxide Tablets are the only EPA registered purification tablets and the only tablet disinfectant effective against viruses, bacteria, giardia and cryptosporidium (note that these exact same tablets are also marketed under the Potable Aqua and Aquamira brand names; different only in the packaging)
Each pre-measured tablet treats 1 liter/1 quart of water (no mixing or measuring, just drop into the water and wait the prescribed time). When diluted in water, Micropur MP1 tablets release chlorine dioxide, the same substance used in municipal drinking water plants worldwide to disinfect drinking water. A significant additional advantage is that these tablets leave virtually no taste in water in my experience and that of many others who tested them.
CAUTION! Use Micropur MP1 only in accordance with Supplemental Survival Instructions
One of the most important things to understand is that chlorine dioxide is not the same as chlorine. Two very different chemicals, despite the similar names. Chlorine tablets (e.g. Aquatabs, Puritabs, Chlor-Floc, Redi Chlor) aren't reliably effective against cryptosporidium. With the exception of Chlor-Floc, all do poorly in water with high organic content. The products available in quart/liter size treatment which are conveniently packaged for packing in a kit this size are not yet approved for sale in the U.S. (though readily available for purchse) and have no EPA registration. Chlo-Floc's packaging is too bulky for our purposes. Redi Chor is designed to treat 2 gallons at a time, and even though scored, the small tablets are not easily used for smaller quantities, especially as small as a quart. Chlorine also has that distinct taste that so many find unpleasant.
Potable Aqua (Globuline-Tetraglycine Hydroperiodide), is an iodine based disinfectant which isn't reliably effective against cryptosporidium. The only available packaging, a small bottle, is too large for the kit. Repackaging, as I have done myself in the past for my own kits before chlorine dioxide tablets existed, raises a host of liability issues for commercial purposes. Iodine treatments also leave a bad taste that most do not find agreeable (though it can be neutralized by adding vitamin C to the water after the treatment regime is finished).

If there is a downside to the Micropur MP1, it is that they are, by far, more expensive than other available water treatments, one reason that they are not so widely used. All chemical water treatments have a limited storage life, one reason we didn't include them in the original PSP. The Micropur MP1 tablets have a 3-year replacement interval. Replacements can be obtained at any Katadyn dealer or check at: www.katadyn.com.
Also, it should be noted that the instructions printed on the Micropur MP1 packaging have an EPA mandated 4-hour contact time for worst case scenario. In many, if not most, instances you can use the shorter contact times in this table (right) compiled from the official EPA registration test results. A copy of this table is included in the Supplemental Survival Instructions.

The Katadyn® Micropur MP1 Water Purification Tablets are made in the U.S.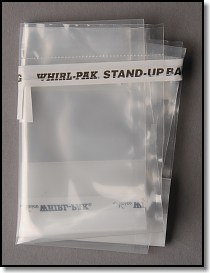 Sterile Water Bag:

No sense including a means to purify the water without a means to hold it while being purified and to store it for later use. We looked at numerous possibilities before settling on the Nasco Whirl-Pak® patented sample bag that I had first tested years ago.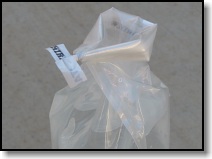 We needed a bag that held 1 quart/1 liter because that's what the Micropur MP1 tablet EPA approved dosage required. That's a pretty large capacity bag to fit into a small pouch. Very few zipper lock closures are actually secure and waterproof, as it turns out, plus zipper lock closures do not work reliably when folded over and nobody made a zipper lock closure bag of sufficient capacity that had a narrow enough closure that it wouldn't have to be folded. We looked into manufacturing our own bag, but the minimum quantities were too large, especially if we wanted a superior zipper lock seal that wouldn't leak. We looked into alternative closures, but they were all too bulky.
The Whirl-Pak® closure, when sealed in accordance with the provided Supplemental Survival Instructions, is very secure. We tested the closure by filling the bag with a quart of water and repeatedly dropping it from 6 feet onto a hard surface (Click for video). The bags typically would withstand 3-5 drops before springing a leak at a seam, but the closure wouldn't fail. It was also able to withstand a 185 lb. (85 Kg) person standing (static) on the bag. That also provided proof that the bag is veryy robust itself, though as with any thin plastic bag, it can be easily punctured with a sharp or pointed object, so you do need to take extreme care when using it not to do so.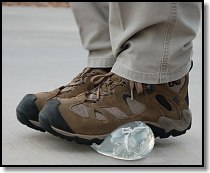 Whirl-Pak® bags are made from blended virgin, low-density polyethylene, giving the bag superior strength. These bags also feature "Puncture Proof Tabs." This patented process extends the tape on the tab past the wire ends, eliminating the sharp points which could puncture the bag. The bag is factory sealed and sterile. A strip at the top must be pulled off to open the bag and the plastic pull tabs on either side make it easy to pull open the top. The wire in the closure strip ensures that when opened, it stays open, making filling the bag much easier. It has a gusseted bottom, which makes for easier use because it will stand up on its own. The bag is designed for use in a single survival episode; replace it after use.
The Nasco Whirl-Pak® is made in the U.S.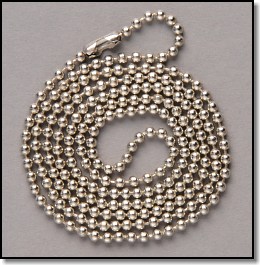 28" Ball Chain:

This is a military spec stainless steel ball chain, the same as used by millions of military members to carry their dog tags as well as other odds and ends. It may be used to carry various components from PSP+ around your neck for quicker access, such as the Rescue Howler™ Whistle, Rescue Flash™ Signal Mirror, compass, PICO™ Lite and RSK® Mk5 knife. I would caution that these should be carried under your shirt for security if possible when not actually in use since the chain can slip off over your head if you bend over too far. Alternatively, you can secure the ball chain through a belt loop and carry the gear in a pocket. The ball chain may also be used to improvise repairs. Note that while pretty strong, the ball chain will break if subjected to excessive force, so it designed to break before you are choked should it somehow become caught up and you fall.
The Ball Chain is made in China
Pocketsize Clear Vinyl Pouch:

At 4 x 5 inches (10 x 13 cm), this pouch is truly pocket-sized and features a waterproof zipper-lock closure. The top can be folded over to reduce the width to a mere 3.5 inches (8.9 cm). When sealed with the standard contents inside it will float. You can add up to 4 ounces (11 g) additional contents, double what's there, and it will still float, even without purposely trapping additional air inside. The hole provided for pegboard display can be used to attach a lanyard for added security or alternative carry, such as around the neck. The hole will support 25 lbs. (11 kg) in tension with #15 twine before failing.
This is the same pouch Adventure Medical Kits has long used for its Pocket Medic and Blister Medic kits, among others, and is well proven in the field. The pouch is sturdy and will stand up to a good deal of abuse, but the entire kit is somewhat flexible (bearing in mind the rigid mirror that serves to anchor the kit), adding to the comfort quotient and ease of carriage in almost any pocket. It remains flexible even in frigid temperatures, we tested it to –40° F (-40° C).
The clear pouch is a compromise between the toughness of a metal or plastic hard container and the deficits they bring in comfort, bulk and cost. While it isn't as durable as a metal or hard plastic container, the clear pouch allows the high quality contents to be seen in a retail display so there's nothing hidden, and to also check on their condition to ensure they are all still there and in good condition. Since it can be opened and resealed (with one hand, I might add), a purchaser can practice with the firestarter and the signal mirror and there is plenty of room to add personal medications, some matches or a small lighter, or water purification tablets to name a few possibilities.
The Vinyl Pouch is made in China.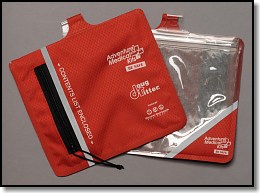 Pocketsize Pacific Outdoor Equipment PNUEMO ZIP Waterproof Pouch:

The original vinyl pouch (above) was a very tight fit for added components in the POCKET SURVIVAL PAK™ PLUS. That would also not allow any room for personal additions. Beyond that, since we were going to be asking more than double the cost of the original PSP, we felt it required an upgraded pouch. That turned out to be about the most difficult part of the entire project.
I lost track of how many different prototype pouches from numerous different companies that we looked at, dozens for sure. Some were too big, some were too bulky, some weren't waterproof, some were too heavy, some were too costly. We tried all sorts of materials, we tried closures and zippers of every description, we pretty much tied everything. We wanted to move away from PVC which has gotten a bad rap of late and thus many retailers are shying away from it. That only made it more difficult as most of the best zipper lock seals are PVC.
All I was looking for was a robust, waterproof pouch with a clear front and which wasn't too bulky, because it still had to fit in a pocket. It would be hard to call it a Pocket Survival Pak if it didn't fit in a pocket. Who could have imagined how difficult that woudl be to find? When Pacific Outdoor Products introduced their PNEUMO ZIP Pouchs, we approached them about making a special one for us. It wasn't going to be inexpensive, but I had hopes it would work. About a half dozen prototypes later, we finally had a pouch that would work. It wasn't perfect, but it was pretty darn close and it met all the key requirements.
The PNEUMO ZIP Pouch is 4 x 5 inches (10.2 x 12.7 cm), 4 x 3.25 inches (10.2 x 8.3 cm) with top folded over and has a waterproof zipper lock closure. The foundation is Don't-Lose-Me bright orange 40D polyurethane coated diamond ripstop nylon shell. The front is crystal clear TPU. The pouch is RF welded to make for robust and waterproof seams. It is rated waterproof to 9.8 ft./3 meters for 1 hour.
Offset pull tabs at the top make it easier to open. The rear tab has a built-in loop that serves as a lanyard hole. A zipper provides access to a separate storage slot on the back (not waterproof). Retro-reflective trim is attached front and back for night visibility. Still fits in a pocket!
The only thing I'm not 100% happy with is the the cold weather performance of the zipper lock closure. It still works, but cold will stiffen the pouch's zipper lock seal, making it more difficult to open and close. To address this issue, we have included special instructions on the easiest way to accomplish this in the Supplemental Survival Instructions since the easiest opening method especially isn't self-evident:
TO OPEN: DO NOT pull tabs straight apart. Grasp pull-tabs and roll down to open.
TO CLOSE: Place pouch on hard surface. Start at one end and press down along the zipper seal to close.
The PNEUMO ZIP Pouch is made in China.
Retail Packaging "BONUS" Survival Instructions Insert:


Included in the retail packaging on the inside of the insert (fold out) is BONUS Survival Information that lists recommended personal gear to complement or supplement the kit contents. This pamphlet also includes additional basic safety and survival information. No kit this small or this affordable can possibly contain everything one needs in a survival situation. One should also carry a reliable folding knife, some basic shelter (even a garbage bag or two will suffice) and more. This little pamphlet just reiterates the proven advice I provide at all the seminars and presentations I give on the subject of being Equipped To Survive™.
---
The total weight with of the POCKET SURVIVAL PAK™, with all this high quality gear, is just 3.9 ounces (111 g). The pouch is 4 x 5 inches (10 x 13 cm) and only 21/32 inch (17 mm) thick, thinner than some wallets. The goal was to make the kit truly pocket-sized so that most people would be comfortable carrying it on their person--and it is.

The total weight with of the POCKET SURVIVAL PAK™ PLUS, even with the additional premium components is still only 5.9 ounces (170 g). The pouch is 4.5 x 5 inches (11.4 x 13 cm) not including the tab and only 7/8 inch (22 mm) thick. Despite the extra gear, the PSP+ remains light and small enough to carry in a pocket so that most people would be comfortable carrying it on their person.

These are, after all, a "personal" kit. It is a basic truth that you can only rely upon gear that is on your person, gear that is with you when needed, even if all your other equipment is lost.

---
A portion of the proceeds from the sale of the POCKET SURVIVAL PAK™ and POCKET SURVIVAL PAK™ PLUS supports the Equipped To Survive Foundation. Click here to learn more about the Equipped To Survive Foundation.
The Manufacturer's Suggested Retail Price for the POCKET SURVIVAL PAK™ is $34. The Manufacturer's Suggested Retail Price for the POCKET SURVIVAL PAK™ PLUS is $80. Many retail outlets sell these kits at a discount. Click here for a list of retailers who stock the kits.
One of the goals was affordability; so everyone who ought to carry one could afford to do so; so each member of a group could have their own Personal POCKET SURVIVAL PAK™ or POCKET SURVIVAL PAK™ PLUS. I think we succeeded. I feel these kits represent an extraordinary value, a lot of lifesaving capability for the buck. The retail value of the primary components is worth nearly what the whole kit costs.
Of course, you would also have to source these from different retailers to get the lowest prices and then pay shipping if purchased online or via a catalog. Bottom line is that the consumer is getting the complete POCKET SURVIVAL PAK™ or POCKET SURVIVAL PAK™ PLUS for very nearly what it would cost them just to get the primary components, possibly even less depending upon where they purchased them. That has to be a great value by anyone's definition.
Moreover, unlike most other inexpensive or affordable pocket survival kits that might form the basis for a better kit with judicious replacement of sub-standard or life-threatening components and by supplementing what's included, there's no need to toss any of the gear in these kits. And, in the case or the POCKET SURVIVAL PAK™ PLUS, not much to add either. Every component of this kit is up to the task of saving a life, providing even better value to the buyer.
---
One question we are frequently asked by those who have never tried to assemble a personal survival kit themselves is, "why does the POCKET SURVIVAL PAK™ cost what it does?" The implication being that they don't understand why it isn't cheaper. All the while, we're amazed we've managed to keep it so affordable. While the high quality components that are worth betting your life on™ are part of the story, the other part of the story is the amount of individual labor that is required at the component level and during the final assembly and quality control process.
We decided the best way to illustrate this was to present a slide show that illustrates many of the steps necessary to assemble both the individual components and then the POCKET SURVIVAL PAK™ itself.
Click here to open a new browser window with the POCKET SURVIVAL PAK™ Assembly Slide Show. (uses Javascript)
---
By design, there are no life-limited or perishable items in the POCKET SURVIVAL PAK's™, nothing to expire. The only item at all subject to potential deterioration is the duct tape, and to date no problems have been reported in the years it has been included in the GearAid kits.
Two componets of the POCKET SURVIVAL PAK's™ PLUS have life limits:
The Micropur MP1 tablets have a 3-year replacement interval. Replacements can be obtained at any Katadyn dealer or check at: www.katadyn.com.
The PICO™ Lite uses 4 x LR41 batteries with a 5-year nominal replacement interval. Affordable replacement batteries are available online from Essential Gear dealers or at: www.EssentialGear.com.
---
We decided against including matches primarily because of the shipping constraints matches would create. Unfortunately, the Hazardous Materials / Dangerous Goods shipping regulations for air transport have become so onerous that even a few matches included in the kits would have resulted in exorbitant shipping costs and additional paperwork. The potential fines if a mistake is made in the paperwork, even accidentally, are huge. The certification process to allow for shipping of small numbers of Pocket Survival Paks™ as normal goods, with special approved packaging, was too expensive to consider and would have significantly impacted the cost of the kit.
Because of the reliability and ease of use of the Spark-Lite firestarter, I had minimal qualms about not including some matches. In the end, the only rational solution was to allow room in the kits for a purchaser to add matches to supplement the Spark-Lite firestarter, if desired. That's exactly what I've done, four waterproofed strik-anywhere matches wrapped in aluminum foil.
---
The POCKET SURVIVAL PAK™ has been tested waterproof to 6 ft (1.8 M) fully packed and sealed. The POCKET SURVIVAL PAK™ PLUS has been tested waterproof to 9.8 ft. (3 M) fully packed and sealed. Yet, both can be easily opened, there is no tape to undo or reseal to make it waterproof.
In addition, all the primary components are waterproof or highly water resistant (the latter meaning that they may deteriorate some after very prolonged immersion or require drying out before use). Even the Survival Instructions and Note Paper are waterproof.
When sealed with the standard contents inside, both the POCKET SURVIVAL PAK™ and POCKET SURVIVAL PAK™ PLUS will float. You can add approximately 4 ounces (11 g) additional contents and it would still float, even without purposely trapping additional air inside. That's equal to 20 quarters.
---
Too often a survival emergency is caused by an accident or incident that causes an injury. If that injury precludes the use of one arm or hand, and the equipment you have requires two hands to operate, you could be facing an even more difficult and life-threatening survival scenario. If it is freezing cold and your fire starting gear requires the use of two hands, as many do, you could freeze to death. On the other hand, to make another bad pun, if you can start your fire using just one hand, your situation is much improved and chances for survival significantly increased.
In some circumstances, even though you have use of both hands, one may be needed just to hold on, leaving just a single hand to accomplish whatever needs doing, such as signaling for rescue.
Given the option, and all other things being equal, it is always better to have tools and gear that you can operate with one hand only. Why wouldn't you want every possible advantage when your survival is at stake?
---
Writing the Survival Instructions for this kit was a daunting task. I wanted to give a survivor the most information I could that would aid in their survival. I wanted to do a better job of it than the sparse or inappropriate or, in many cases, dangerous advice and instructions I'd found in so many pocket-sized, and often even larger kits.
We started off by reviewing every set of Survival Kit Instructions and the many survival texts that I have collected over the past couple decades. We sorted out what we felt worked and what didn't. There's not a lot new under the sun with regards to survival instructions, mostly there are differences in what's included and in the presentation. We were plowing fields already well plowed for decades.
However, space was very limited, even after resorting to relatively small print, so I found myself conducting triage as I worked to reduce the information provided down to only that which is absolutely critical-to-survival. The survival information and techniques covered also had to still be appropriate for a variety of environments, adding to the challenge.
It was helpful that the instructions were to be kit specific; designed to work with the equipment in the kit. As an example, the fire starting instructions are based on using the Spark-Lite and tinder in the kit, and the illustrations support that.
The other key was to develop effective survival instructions that were concise, but usable; as terse as possible to save space, while still comprehensible to most potential readers. Many of the survivors who will need to rely on these instructions will have limited or no experience with the skills necessary to survive an unexpected stay in the wilderness. And, try as I might to suggest otherwise, for many the first time they read these instructions will be when their life is in peril.
Initially, numerous experienced wilderness survival instructors reviewed drafts of the Survival Instructions. Based on their many years teaching the novice and naïve, items were added and subtracted to get down to the most essential survival skills and knowledge that was presented in a manner that was felt would most likely work for those without these basic skills. Then the instructions were actually evaluated by individuals with little or no wilderness experience to see if they were easily understood and followed. Could an ignorant novice in the woods really perform the task required?  Could they build a fire, make a shelter, tie a knot?
Sometimes all it took was changing a single word to make it work, in other cases instructions were completely revised in order to make them effective. Through this continual refinement the distillation process stripped any excess, leaving just the essentials, but essentials that would work for most people unaccustomed to this environment, possibly in shock and rarely operating at their best.  
Often, a picture really is worth a thousand words. (As a side note, this is actually a mis-translation of a "Chinese proverb" used in a San Francisco streetcar advertisement from the 1800's. The literal translation is: A Picture's Meaning Can Express Ten Thousand Words.") This is especially true when it comes to shelter building and knot tying. I enlisted the talents of award winning illustrator Dave Brenner to provide original detailed illustrations. One aim was to have all the illustrations done in the same style so that they formed a unified and professional looking presentation. This not only improves comprehension, but it also adds to the reader's confidence that the material they are reading is well-founded and will work. This contributes to the all-important positive mental attitude that is a key to survival.
We did not recycle overused and abused military survival manual illustrations, many of which are impractical. We gathered the best illustrations and photos we could find from both my collection of survival texts and online sources and used many as fodder and inspiration for many of the illustrations that Dave drew. As with the text, nobody in the survival field doesn't owe those who have gone before; we no more or less than others before us. There are only so many ways to effectively illustrate some things, a lean-to, snow shelter or fire bed, for example. We borrowed the best illustration concepts, perspectives and presentations from various sources and combined and modified them into original drawings that achieved the desired end result. Some illustrations, or portions of illustrations, were also drawn from photographs we took of survival shelters that I constructed during field exercises. These illustrations were themselves revised numerous times to assure they communicated the information desired and provided the detail necessary even when reduced down in size to fit the minimal space available.
The selection of knots to be illustrated engendered a long debate. Space limitations meant we could show only a few and it was not easy selecting which to include. They had to be as multi-purpose as possible and had to cover the basics someone might need to assemble shelter or improvise equipment and such, and it seems everyone had their own favorites. I solicited suggestions from both survival instructors and experienced outdoorsmen and women as well as from the diverse international membership of The Survival Forum™ on Equipped To Survive. One of my own favorites, the Figure 8 Rethreaded, a stronger and more secure replacement for the traditional Bowline, was eventually dropped when after dozens of drawing revisions and attempts it became clear that it was simply too difficult a knot for many to tie from a simple illustration. 
The shelter illustrations and instructions were designed to not only provide simple how-to instructions, but also to allow a survivor who was thinking clearly and with a modicum of common sense to use elements of each to provide more options.
After much experimentation and testing, the fire building means selected for the Survival Instructions is one that is taught at U.S. Air Force Survival School as being almost foolproof. While an experienced person would use more conventional fire lays, this one seems to do best for the inexperienced operating from the most basic of instructions and is most likely to result in success in my experience. Given the critical importance of fire to a survivor, they need every advantage we could offer.
The instructions start off with the well-known "STOP" acronym (Stop, Think, Observe, Plan). Of the various survival acronyms in common use, I find that this is the easiest to remember and most universal. This gets the survivor off to a good start, providing a sound basis upon which they can move forward and make best use of the information provided.
There is only the most basic of first aid information. From my point of view, a pocket kit such as this simply cannot be all things and it is not a first aid kit. Adding more first aid information would have significantly detracted from the critical survival instructions a survivor might need. Most people, even without formal training, understand the basics of first aid and with limited supplies there is little that can be done that would be kit specific. Moreover, many of the first aid instructions you will find in other survival instructions are unrealistic in a survival environment. They may look comforting on the page, but for example, CPR in a remote wilderness location has a very slim chance of success with no rapid transport to a hospital. So, we concentrated on what was most critical, survival.
---
There is no room in a kit this small for all but the most inconsequential first aid supplies, perhaps an adhesive bandage or two. That space is better put to use for survival gear that's more critical to survival. Bandages and most other such basic first aid supplies can be easily improvised in the field, including use of the duct tape in the POCKET SURVIVAL PAK™.  
---
Probably not. First off, a small bubble in the vial will not affect the accuracy of the compass. The fluid is used to dampen the movement of the magnetic needle to make it quicker and easier to use in the field; so it is more stable. It has no effect on accuracy.
While we have selected a quality compass that resists bubble formation, all small and inexpensive liquid-filled compasses will develop a bubble under the right circumstances. Normally, this bubble is caused by higher elevations and/or exposure to colder than normal temperatures. The bubble is created when the mineral oil in the compass vial expands or contracts faster than the rigid plastic vial, forming a vacuum bubble. That's right, it's not a bubble of air you're seeing, it's a bubble of nothing, literally.
Normally, the bubble will disappear when the compass is returned to room temperature or a lower altitude. If the bubble persists, warm the compass by placing it under an incandescent lamp or in a sunny spot so the fluid in the vial will warm. As it warms and expands back to its original volume, the bubble will disappear.
A compass with a large bubble that does not disappear when warmed as described above is likely faulty, either as originally manufactured, and it somehow got through Adventure Medical Kits' inspection process, or as a result of a very, very small leak that may not be apparent. A leak could be the result of a manufacturing defect or it can occur due to impact in use. This may be covered under warranty. Contact Adventure Medical Kits to obtain a replacement compass.
---
Probably not. In some early production kits the scalpel blade was incorrectly placed under the compass and the surgical stainless steel used in that blade for improved edge-holding will affect the compass to the extent that it will appear not to work when stored in the pouch. If your compass appears to be stuck while packed and the scalpel blade is located under it, just move the blade to the other side of the kit (under the whistle behind the mirror) where it was supposed to be. The compass should now rotate freely. Please note that even if the blade is stored under the compass and prevents it from rotating, that will in no way affect the operation of the compass in actual use, no matter how long it is stored that way.
When using this small compass it must be held level or very nearly so or it will bind. There is simply not enough volume inside the small case to allow for much angular deflection of the compass disk before it hits the case and sticks. This is a common design limitation in almost all liquid damped button survival compasses. Most complaints we get about sticking compasses are related to this limitation and they will work properly when carefully held level.
The best way to check that it is swinging freely is to use some ferrous metal and move it close to the compass and watch for the compass card to move freely as you move the metal closer and then pull it away. The aforementioned scalpel blade will work fine for this purpose. Alternatively, rotate the compass while holding it level and watch that it returns to point north in the same place as it was. In either case it will be obvious if it is not rotating freely or gets stuck.
If it still appears that your compass does not work properly, this will be covered under warranty. Contact Adventure Medical Kits to obtain a replacement compass.
---
The BONUS Survival Instructions include the recommendation to carry a folding knife. Some have asked why I would recommend a folding knife when a fixed blade (sheath or hunting) knife is the generally accepted standard for the best survival knife. These BONUS Survival Instructions are primarily aimed at the novice purchaser, many of whom will be moms and dads buying for their kids, a major segment of the market for this kit. Experienced outdoors-persons are already knowledgeable about the suggestions included and probably already carry the extra recommended equipment, including a knife and often more than one. Those who are inclined to carry a fixed blade knife, a small minority of the population, are already likely doing so. On the other hand, many people these days don't even own a pocket knife. The idea of even carrying a knife is a novel concept for many. For too many people, a knife is seen as a weapon, not a tool. These people are unlikely to even consider a fixed blade knife and might even be repelled by the idea, perhaps to the point of ignoring some or all the advice. They might well consider carrying a pocket knife, it seems less threatening to them, so that's what I recommend; as well as including the advice that it should have a locking blade for safety.
---
The TSA maintains a page that lists prohibited items (this changes regularly, so always check to confirm the current list). There are differences between carry-on and checked baggage. At the time this was written (September 2010), the POCKET SURVIVAL PAK™ and POCKET SURVIVAL PAK™ PLUS are both legal for checked baggage and you will have to remove the scalpel blade or knife, respectively, in order to be legal for carry-on.
However, be advised that the screeners at any particular airport or checkpoint may or may not abide by the official policy and may interpret policy in an inconsistent manner. If you have added any items to the POCKET SURVIVAL PAK™ you will need to access their legality. For example, one book of safety (non-strike anywhere) matches are permitted as carry-on items, but all matches are prohibited in checked baggage. A common butane lighter would be legal for carry-on, but not in checked baggage.
---
Yes, companies and organizations can purchase the POCKET SURVIVAL PAK™ with their logo or message imprinted on the pouch. Contact Adventure Medical Kits for details.
---
---
| | |
| --- | --- |
| | SELECT AND USE OUTDOORS AND SURVIVAL EQUIPMENT, SUPPLIES AND TECHNIQUES AT YOUR OWN RISK. Please review the full WARNING & DISCLAIMER about information on this site. |
---
Email Doug Ritter
URL: http://www.DougRitter.com/amk_psp_faq.htm
First Published on: May 5, 2004
Revision: 11 September 11, 2010