| | | |
| --- | --- | --- |
| | Doug Ritter Bio | |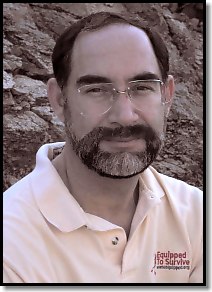 Doug Ritter is the founder, Publisher and Editor of Equipped To Survive™ and Board Chairman and Executive Director of the Equipped To Survive Foundation. This is a brief summary of what he does "for a living" and his experience as it relates to the subject of survival.
---
Doug is a professional freelance writer and editor. He has written for a number of publications and does corporate writing in areas other than those he covers as a journalist. His principal focus for magazine work is general and military aviation and marine safety and survival. Of late, he is spending less time writing for others and more time developing the Equipped To Survive Foundation and in designing his own line of survival gear.
As the News Editor of AVweb - The Internet's Aviation Magazine and News Service from 1998 to 2000, Doug was responsible for AVweb's "NewsWire" and the highly respected emailed summary of the week's aviation news, "AVflash." He also developed and edited AVweb's columns section and its ground breaking coverage of EAA AirVenture Oshkosh. AVweb grew nearly 100% larger during his tenure. AVweb's "NewsWire" won the National Air Transport Association's 1999 "Aviation Journalism Award" for excellence in aviation journalism given for performance during Doug's tenure as News Editor.
He served as a contributing editor to The Aviation Consumer for over a decade and for nearly a decade was a contributing editor forAviation Safety, He also served as Safety and Survival Editor for Practical Sailor, and Powerboat Reports. All these Belvoir Publishing publications are completely subscriber supported. They accept no advertising (similar to Consumer Reports) and this precludes any possible perception that the reviews or articles are influenced by advertisers. You can see where Doug's concept for Equipped To Survive came from.
For Aviation Safety Doug wrote feature articles on the subject of human factors, pilot technique, specific aviation safety matters, analysis of safety issues, interpretation of complex issues and technology related to safety of flight and in-depth investigations of safety related issues. For five years he also wrote a bi-monthly column, "Medical Matters," about aviation medicine, aviation related medical concerns and medical certification. A number of his Aviation Safety articles have been reprinted by the FAA (Federal Aviation Administration) and the United States Air Force.
For The Aviation Consumer Doug wrote feature articles involving product analysis, evaluation and comparisons, interpretation and explanation of complex technical and engineering concerns related to aircraft systems and products and in-depth investigation of aviation products and aircraft related issues.
For Practical Sailor and Powerboat Reports Doug wrote feature articles involving product analysis, evaluation, comparisons and in-depth investigations of marine safety and survival products and safety related issues.
Doug has also been a contributor to CODE ONE magazine (an award winning publication of Lockheed Martin Aeronautics Company, manufacturers of the F-16 and F-22) for whom he has written feature articles dealing with military aviation (for an example, see: "Gas Stations in the Sky"). He has also written for numerous other publications, primarily in aviation, such as AOPA Pilot, IFR, and Flight Training (for whom he was formerly a contributing editor), but Doug branches out into other fields as well on occasion.
Doug edited the EAA AirVenture Today daily newspaper at AirVenture Oshkosh, the world's premier aviation event, from 2000 through 2003.
Doug is a Cornerstone founding member of POMA, the Professional Outdoor Media Association, as well as being a full member of Boating Writers International. Doug won the 2000 Boating Writers International Annual Writing Contest in the category of Safety, Seamanship and Rescue for his five-part series of articles, "Life Rafts: The Good, Bad and The Ugly." He is also a former officer and pilot in the Civil Air Patrol.
Along the way Doug has developed particular expertise in the areas of survival and survival equipment and supplies. He has written over 250 articles on these subjects for the above publications and others, as well as for Equipped To Survive™. Doug has appeared on numerous TV and radio shows and been quoted in national publications such as The Wall Street Journal. He has visited the USAF Survival Schools where he participated in the Land and Water Survival Training and Water Survival-Ejection Aircraft Training courses. He has also attended a number of other survival courses including the S.T.A.R.K. Open Water Survival Training Course, LTR (Learn To Return) Training Systems, Inc. Primary Aviation (Land and Water) Survival Courses, and Survival Systems Training, Inc. Underwater Egress and EBS Courses. In additon, Doug has also completed numerous survival field exercises with the U.S. Air Force, U.S. Coast Guard, U.S. Customs, and others.
Doug has been "privileged" to spend over 175 hours on the water in life rafts of various types, much of it in the open ocean environment, including overnight exercises on a number of occasions. He has shared life rafts during these exercises with other authorities in the field including some real-world survivors, such as Steve Callahan (of "Adrift" fame). Doug has interviewed nearly 120 survivors of aviation, marine, and wilderness survival episodes.
Doug's articles on land and water survival and aviation life saving equipment evaluations are included in the reference collections of the USAF Survival School and the National Search and Rescue School.
He has been invited to speak on the subject of survival and about various specific survival equipment and supplies at FAA sponsored seminars, the Aircraft Owners and Pilots Association (AOPA) and Experimental Aircraft Association (EAA) annual conventions, as well as numerous other aviation, boating and sportsmens association events, and to various survival and search and rescue related organizations.
As a working full member of the S.A.E. Aerospace Council, Aircraft Division, S-9 Cabin Safety Provisions Committee, and the S-9A Subcommittee - Safety Equipment and Survival Systems, Doug participates in the development of standards, procedures and recommended practices for related systems on transport category aircraft. The S.A.E. aerospace documents generated by these committees form the basis for many new, revised and updated TSOs (Technical Standard Orders), ACs (Advisory Circulars), and FARs (Federal Air Regulations) issued by the FAA. Over the past deacde these efforts have resulted in new advanced and updated TSOs for much of the passenger safety equipment on airlines, including life vests and life rafts.
Doug is also a member of RTCM (Radio Technical Commission for Maritime Services) Subcommittee SC110 that develop standards for EPIRBs and PLBs (Emergency Position Indicating Radio Beacons and Personal Locator Beacons) that form the basis for FCC and many international regulations that regulate the minimum performance requirements for these beacons. Doug was instrumental in standing up of the RTCM SC128 Subcommitte which developed the first ever standard for SENDs (Satellite Emegergency Notification Devices). Doug is also a member of the SC132 Committee on Electronic Visual Distress Signal Devices. Doug has been an active participant in COSPAS-SARSAT Task Groups and Joint Committee meetings that have developed improved international standards for performance and testing of all 406 MHz emergency beacons, ELTs, EPIRBs and PLBs. Doug's participation in these committees is a direct outgrowth from his emergency beacon testing that revealed serious performance deficiencies in some GPS-enabled emergency beacons and significant loopholes in performance and testings standards for 406 MHz beacons.
In recognition of Doug's efforts, the National Boating Safety Advisory Council (NBSAC), operating under U.S. Coast Guard aegis, commended the Equipped To Survive Foundation, along with sponsors BoatUS Foundation and West Marine, for their combined efforts that identified deficiencies in GPS performance of McMurdo GPS-enabled 406 MHz emergency beacons and subsequent actions to protect boaters from the deficiencies identified.
Doug is the only consumer advocate that participates in these standards setting committees.
Doug's aim is to both educate consumers and improve the quality of safety and survival equipment they might someday need to rely upon. This is most effectively accomplished by shining a bright light upon the products.
Doug established Equipped To Survive™ in 1994 on CompuServe and the Web site was formally launched in 1996 as a non-profit publication to further these efforts by making this potentially life-saving information more readily available to consumers worldwide. Doug established the Equipped To Survive Foundation to help fund continued operation and expansion of the Web site and to seek grants for additional research and safety related projects.
Planning an expedition, flight or sail around the world, or a similar adventure? Need assistance deciding what survival gear you need, or someone to assemble and custom package it? Whatever your survival equipment needs, Doug can help you prepare for the unexpected with his consulting services. More information can be found at DougRitter.com
In 2002 Doug started on his effort to develop survival equipment that would be both high quality and affordable. After over a decade evaluating survival gear, he knew what he wanted in many gear niches, and it had become obvious that the only way it would ever exist would be if he somehow developed it himself. In 2003 the Adventure Medical Kits Pocket Survival Pak designed by Doug Ritter was introduced, but actual kits didn't ship until May of 2004. Doug's first knife, the RSK® Mk1, is a collaboration with Benchmade Knife Company and was introduced in May of 2004. Other such efforts have followed. A portion of the proceeds from the sale of all Doug Ritter™ and the Doug Ritter logo Gear supports the non-profit Equipped To Survive Foundation.
Doug is also the founder and Chairman of Knife Rights, dedicated to a sharper future for all Americans.
---
---
Email Doug Ritter
URL: http://www.DougRitter.com/dr_bio.htm
First Published on: May 5, 2004
Revision: 01 September 12, 2010