Doug Ritter
RSKŪ Mk3-G2 Fixed Blade Utility / Survival Knife
Click on photos for larger image.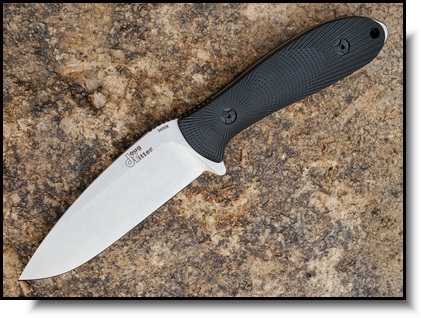 The next generation of survival authority and Knife Rights Chairman Doug Ritter's popular RSKŪ Mk3 fixed blade, manufactured by Hogue, is now available EXCLUSIVELY from Knifeworks. The RSKŪ Mk3-G2 (Generation 2) is an upgraded version of the original RSKŪ Mk3 that Ritter introduced in 2006. It features G10 scales with Ritter's trademark sunburst pattern (derived from that on his RSK Mk1-G2 folders), Ritter's highly regarded wide-chord, high flat-ground drop point full-tang blade in CPM S45VN and other refinements.
KnifeWorks' everyday price is only $192.95** with FREE continental U.S. Ground shipping! I don't believe that you will find a better overall value in a USA-made fixed blade with premium stainless steel blade for everyday utility or survival. And, like the original, it's a knife you can bet your life on™.
NOTE: "Mk" is pronounced "Mark," so RSK Mark Three G2
Income from the sale of the RSKŪ Mk3-G2 and my other RSKŪ knives and gear allow me to spend the majority of my time on Knife Rights' efforts to free knife owners from irrational knife restrictions. This has resulted in 33 bills enacted repealing knife bans in 23 states and over 150 cities and towns, nine anti-knife bills defeated and numerous litigation victories since 2010.

When Benchmade advised me in the summer of 2016 that as part of a restructuring that they were no longer going to produce my RSK knives, it was quite a shock. These highly regarded knives have been my primary source of income for the last decade. Walking away from Knife Rights and ETS due to the loss of knife income simply wasn't an option I would consider.

A number of knife companies approached me after I announced that Benchmade discontinued production, eager to take on this successful line of knives. In the end, Ritter has teamed with Hogue, Inc. to produce the next generation RSKŪ knives. In Hogue I believe I have found a partner who understands my goals, is dedicated to producing world-class knives in the U.S. with customer service second to none. They are also committed to helping Knife Rights continue to forge a Sharper Future for all Americans.

Jim Bruhns, Hogue Managing Partner, said, "We couldn't be prouder to partner with Doug to manufacture his highly regarded knives. That this will allow Doug to continue to fight for our rights is just icing on the cake for all of us at Hogue who one hundred percent support Knife Rights."
If you don't need any more details and just want to order, click here to go to the Doug Ritter page on KnifeWorks.com.
In developing the RSKŪ Mk3-G2 my aim was to upgrade my practical utility, survival and hunting fixed blade and still sell it at a price that would be, if not cheap, at least affordable. "Good value" is what we strove for, in a fixed blade knife that you could bet your life on™.
I first sketched the original version of this knife in April of 2005. A few details have changed since then, but the basics have remained essentially the same through to this Generation Two version for the simple reason that IT WORKS!
From my perspective, fixed blade knives designed for survival, utility and hunting use can be broadly divided into three categories, small, medium and large. "Small" fixed blades tend to be replacements for folders with blades from 2 - 3.5 inches for those that don't mind the carry impositions of the required sheath and size compromises they entail, but who prefer a fixed blade for the added strength and other attributes it brings to the table. "Medium" fixed blades run from 3.5 - 6 inches, on my scale, and I consider fixed blades over six inches to be "large."
The RSKŪ Mk3-G2 falls into the middle of the medium range with a 4.5-inches (11.43 cm) blade. I find this length ideal for most purposes, big enough to get the job done, providing more utility on larger jobs than a typical pocketable folder like my RSKŪ Mk1-G2, but not so big as to be bulky or heavy.
The RSKŪ Mk3-G2 has proven adept at typical survival, camp and hunting chores, such as making shelters, splitting wood for fires, skinning game and the like. It is just the right size, in my experience; a perfect compromise in size and weight between a typical EDC folder and a larger and much heavier fixed blade.
Conceptually, this knife falls between the lightweight Mora style fixed blade with its traditional Scandinavian narrow, thin, Scandi ground blade and the beefier and larger survival knife or "sharpened prybar" with a 3/16-inch (4.75 mm) to 1/4-inch (6.34 mm) blade, such as KA-BAR's full-size Becker series and my out-of-production RSKŪ Mk2.
The blade profile is a somewhat unconventional variation of a traditional drop point, carrying adequate thickness to the tip for strength, but with a somewhat pointier tip than a traditional drop point. It has a taller spine towards the base of the blade to allow for the enhanced thumb ramp. Despite using thicker steel than the RSKŪ Mk1-G2, 0.140 inch (3.56 mm) vs. 0.115 in. (2.92 mm), the high grind allows us to keep virtually the same edge geometry that so many have found to make for such a great slicer. The thicker steel provides added strength and rigidity, but it isn't so thick that it favors brute strength or weight over everyday functionality. It is designed to cut well, not as a chopper.
There is enough belly to the blade so that it works for dressing game, but not so much that it interferes with overall utility. Both the RSKŪ folders and fixed blade have proven popular with hunters and guides where they have dressed out lots of large game such as deer, moose, elk, caribou and the like.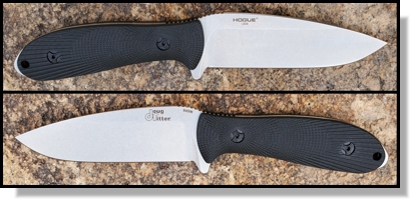 Blade steel is Crucible Industries CPM S45VN powder metallurgy high carbon stainless steel produced in the USA. An evolution of CPM S35VN (itself an advance over the original RSKŪ Mk3's CPM S30V), this steel offers an outstanding balance of edge retention, wear resistance, corrosion resistance and toughness (Click for more about CPM S45VN at Knife Steel Nerds). The blade is given a stonewashed finish to provide added corrosion resistance and which also helps hide scratches. The blade is cryogenically processed to achieve a hardness of HRC 60-62 to provide that optimum balance of edge-holding and toughness.
This knife will stand up to typical outdoors and survival use, including batoning to split wood (done properly and avoiding knots), but it as previously noted, is not a "sharpened prybar" style knife. In exchange, this knife is quite a bit lighter for its length, only 5.7 ounces (161.6 g). Lighter weight means it is more likely to be carried, which in turn means is more likely to be there when you need it. If you want a brute of a knife, if you want to pry on things, this is not the knife for you.
The ergonomic handle shape is evolved from the RSKŪ Mk1-G2 handle. Without the restrictions dictated by a folder's mechanical requirements, there is a true half guard. A thumb ramp with jimping (ridges) is integrated into the tang at the forward part of the handle and the jimping is carried forward on the spine for added control.
The half guard also has an ancillary purpose or feature. You will find that you can set the knife down upright and parallel to the ground/table and the blade will be held off the surface. Handy sometimes.
The radial and checkered pattern lightly machined into the surface of the Black G10 combines effective grip with stunning esthetics. It's enough to help secure the knife in the hand when wet, but not so aggressive that it will create blisters in heavy use. The handle scales are secured with a pair of Torx-head screws into threaded stainless steel inserts. The full tang extension is 0.156 inches (0.093 inches longer than the original) in case you need to use it as an improvised hammer, providing added protection for the scales over the original.
Doug Ritter RSKŪ Mk3-G2 Specifications*


Blade Material
CPM S45VN hardened to 60-62 HRC
Blade Length
4.5 in. (11.43 cm)
Blade Thickness
0.14 in. (3.56 mm)
Blade Shape
Drop Point
Blade Grind
High Flat Grind
Overall Length
9.25 in. (23.5 cm)
Handle Thickness
0.66 in. (16.8 mm) max
Weight
5.7 oz. (161.6 g)
Tang Style
Full, extends past handle scales at butt, lanyard hole
Handle Material
G10 Composite
Sheath
Ballistic Nylon w/ Kydex Liner
*Specifications subject to change without notice.
With a slim half guard, your hand is much closer to the blade edge than it is with the RSKŪ Mk1-G2 folder, improving control for fine blade work. On this size knife I see no reason to give up any useful edge length to a full-sized finger choil with little appreciable gain. Checkering is also provided at the forward end of the scales to enable a more slip-resistant pinch grip.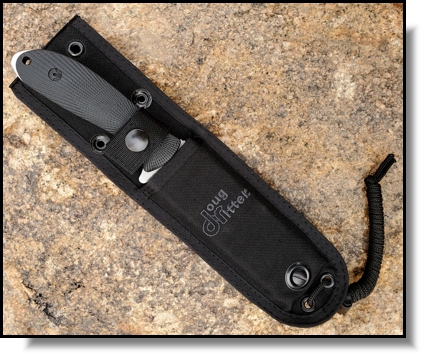 With no quillon or abrupt drop at the aft end of the handle, someone with very large hands will still be able to use this knife with a full grip. There is enough downward curve and swell to the handle, combined with the light checkering, to ensure a secure grip when pulling on the knife, even in slippery conditions.
Balance is neutral, which is exactly what you want with this size knife. It will never be a chopper, it's not large enough or heavy enough, so no need to carry extra weight forward.
The sheath is black ballistic nylon with an ambidextrous utility grade Kydex liner and multiple carry options. The Doug Ritter trademark is embroidered on the face. The retention strap has a snap closure. (If you prefer a different style or material sheath, or one with more features or different type of attachment, click for a list of custom sheathmakers for a sheath in Kydex (or Concealex, Boltaron, etc.) or leather.)
The front of the blade is laser-etched with my Doug Ritter trademark and S45VN. The reverse is laser etched with the Hogue logo and USA.
Like every Hogue-built knife, the RSKŪ Mk3-G2 is manufactured in the USA and is backed by three generations of manufacturing expertise and a limited lifetime warranty.
The Doug Ritter RSKŪ Mk3-G2 is available exclusively from Knifeworks.com at the EVERYDAY LOW PRICE of only $192.95** and ALWAYS with FREE continental U.S. Ground shipping! I don't believe that you will find a better overall value in a high quality, lightweight, CPM S45VN fixed blade for everyday utility or survival.
** Pricing subject to change without notice. If different, price listed on www.KnifeWorks.com represents actual selling price.