Doug Ritter
RSK® Mk1-G2 Folding Utility/Survival Knife
Click on photos for larger image. Photos by Brady Miller.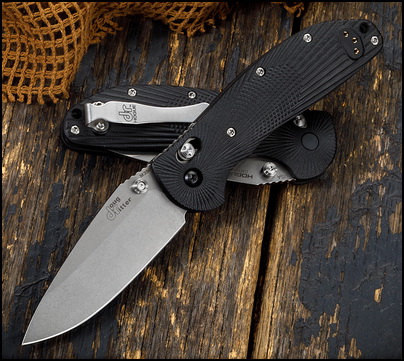 The next generation of survival authority and Knife Rights Chairman Doug Ritter's popular RSK® Mk1 ambidextrous folder, manufactured by Hogue, is now available EXCLUSIVELY from KnifeWorks. The RSK® Mk1-G2 (Generation 2) is an upgraded version of the original RSK® Mk1 that Ritter introduced in 2004. It features a G10 handle, Ritter's highly regarded wide-chord, high flat-ground drop point blade in M390, the ambidextrous ABLE™ Lock and other refinements. KnifeWorks' everyday price is only $152.95** with FREE continential U.S.Ground shipping! I don't believe that you will find a better overall value in a USA-made folder for everyday utility or survival. And, like the original, it's a knife you can bet your life on™.
If you don't need any details and just want to order, click here to go to the order page on KnifeWorks.com or phone toll-free 1-888-225-9775.
Ritter explained, "when Benchmade advised me in the summer of 2016 that as part of a restructuring that they were no longer going to produce my RSK knives, it was quite a shock. These highly regarded knives have been my primary source of income for the last decade. That income is what has allowed me to spend the majority of my time on Knife Rights' efforts to free knife owners from irrational knife restrictions. This has resulted in 29 bills repealing knife bans enacted in 21 states, eight anti-knife bills defeated and numerous litigation victories in the past eight years. The sales also support my Equipped To Survive™ site and my participation on numerous national and international safety and survival standards committees. Walking away from Knife Rights and ETS due to the loss of knife income simply wasn't an option I would consider."
Ritter continued, "a number of knife companies approached me after I announced that Benchmade discontinued production, eager to take on this successful line of knives." In the end, Ritter has teamed with Hogue, Inc. to produce the next generation RSK® Mk1-G2. Ritter said, "in Hogue I believe I have found a partner who understands my goals, is dedicated to producing world-class knives in the U.S. with customer service second to none. They are also committed to helping Knife Rights continue to forge a Sharper Future for all Americans."
Jim Bruhns, Hogue Managing Partner, said, "We couldn't be prouder to partner with Doug to manufacture his highly regarded knives. That this will allow Doug to continue to fight for our rights is just icing on the cake for all of us at Hogue who one hundred percent support Knife Rights."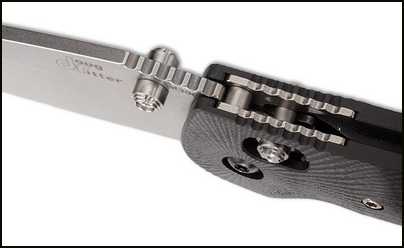 "Needs must when the devil drives," said Ritter. The question facing Ritter was what would the next generation knife look like; how could he make it better? Over the years Ritter had considered "next gen" versions in various configurations, some even got sketched or spec'd out with Benchmade. However, none ever came to fruition for him.
Since Ritter first saw the original Benchmade prototype knife with the ambidextrous AXIS* lock, designed by knifemakers Bill McHenry and Jason Williams, he has been a huge fan. Ritter took note that the patent on that outstanding lock expired in 2016.
Ritter has dubbed the improved version of this lock used in this next generation RSK® Mk1-G2 the ABLE™ Lock—standing for "Ambidextrous Bar Lock Enhanced." The ABLE™ Lock incorporates superior finish and geometry for smoother operation, a tougher lock bar and Wolff omega springs.
W.C. Wolff Co. is famed worldwide for their superior springs engineered and manufactured in Newtown Square, Pennsylvania. Wolff springs are respected for outstanding durability, thus providing enhanced reliability for the ABLE™ Lock. Wolff also provides the torsion springs used in Hogue's automatic knives.
The ABLE™ Lock liners are secured by two offset screws. The additional screw and offset design provides added strength and rigidity to the knife and lock assembly.
Jimping on the liners, handle and the blade thumb ramp have been redesigned to be more thumb-friendly, while still providing plenty of purchase.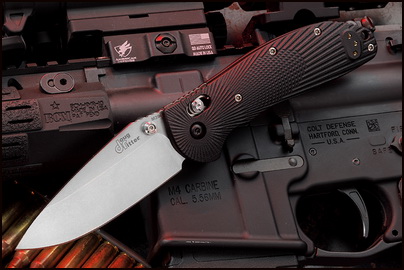 The RSK® Mk1-G2 blade retains the exact same widely acclaimed 3.4-inch drop point profile with a high flat grind as Ritter designed for the original RSK™ Mk1. It is produced from premium Böhler-Uddeholm M390 powder metallurgy high carbon stainless steel with a stonewashed finish. The blade is cryogenically processed to achieve a hardness of HRC 61-62 for an optimum blend of edge-holding and toughness.
The blade rides between phosphor bronze washers for the utmost in simplicity and reliability. The pivot screw is adjustable using a standard Torx driver. Dual thumbstuds, which carry through the tri-wing theme of the ABLE™ Lock lockbar, allow for ambidextrous opening.
The blade is laser engraved with Doug Ritter's logo and the steel type on the front and the Hogue logo and "USA" on the reverse. First Production run of knives are serialized with the serial number under the Hogue logo.
The handle scales are CNC-machined from black G10 high-pressure laminate aerospace composite. Compared to the original RSK® Mk1, it provides improved ergonomics. An "index bump" on the underside offers added security and comfort. The radial and checkered pattern machined into the surface combines effective grip with stunning esthetics. Ritter credits a fixed blade handle design by Les George on a Hydra Fighter he donated to Knife Rights' Ultimate Steel 2015 fundraiser as inspiration for that motif. The handle is 0.16 inches (4 mm) longer to allow for the lanyard hole to be located at the tail end of the handle.
The handle incorporates open construction with three standoffs. Compared to the solid back of the original RSK Mk1, this allows for easier cleaning. The RSK® Mk1-G2 is neutrally balanced, Ritter's ideal for this size knife. The RSK® Mk1-G2 with the G-10 handle weighs in at 4.5 oz (127 g) with the clip.
The RSK® Mk1-G2 carries with a custom stonewashed stainless steel deep-carry pocket clip. The clip is reversible for ambidextrous tip-up carry. While retained by two screws, a standard 3-screw pattern (Benchmade, Spyderco, Emerson, etc.) is provided so that owners can exchange the clip for any of the wide variety of aftermarket and custom clips available. Brass inserts provide secure retention of the clip screws.
The RSK® Mk1-G2 comes in a zippered pouch embroidered with the Doug Ritter logo.
Like every Hogue-built knife, the RSK® Mk1-G2 is manufactured in the USA and is backed by three generations of manufacturing expertise and a limited lifetime warranty.
Click on photos for larger image.
SPECIFICATIONS
Blade Material: Böhler-Uddeholm M390
Blade Length: 3.44 inches (87 mm)
Blade Thickness: 0.115 inches (2.92 mm)
Blade Hardness: HRC 61-62
Blade Edge: Plain
Blade Finish: Stonewash
Handle Material: G10 Composite
Closed Length: 4.72 inches (120 mm)
Open Length: 8.15 inches (207 mm)
Weight (with clip): 4.5 ounces (127 g)
Lock: Ambidextrous ABLE™ Lock
Liners: 410 Stainless Steel
Pivot Washers: Phosphor Bronze
Opener: Ambidextrous Dual Thumb Studs
Pocket Clip: Stainless Steel, Deep Carry, Reversible
Fasteners: Torx
Specifications subject to change without notice
RSK® is a registered trademark of Douglas S. Ritter
* "AXIS" is a registered trademark of Benchmade Knife Company.
The Doug Ritter RSK® Mk1-G2 is available exclusively from KnifeWorks.com. MSRP is $179.95. KnifeWorks' everyday price is only $152.95** with FREE continential U.S.Ground shipping!
** Pricing subject to change without notice. If different, price listed on www.KnifeWorks.com represents actual selling price.
---
---
Email Doug Ritter
URL: http://www.DougRitter.com/dr_rsk_mk1-g2.htm
First Published on: Oct. 14, 2018


Doug Ritter™ and the Doug Ritter logo are registered trademarks of Douglas S. Ritter
© 2018 Douglas S. Ritter - All rights reserved
Check our Copyright Information page for additional information.
Read our
Privacy Policy