Doug Ritter
Auto-RSK®
Click on photos for larger image.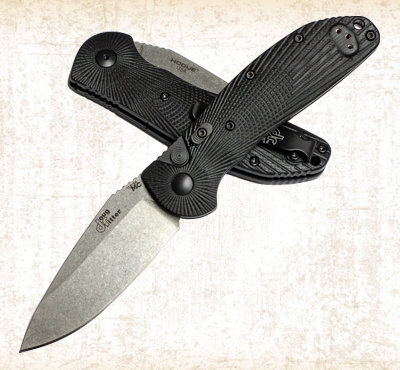 MSRP: $239.95 FOR COMPARISON PURPOSES ONLY - KnifeWorks EVERYDAY LOW PRICE: $209.95 with FREE Continental U.S. Ground Shipping**
Introducing the Auto-RSK®! Survival authority and Knife Rights Chairman Doug Ritter has added an automatic version of his popular RSK® Mk1-G2 folder to his RSK® line, manufactured by Hogue, EXCLUSIVELY from KnifeWorks. The Auto-RSK® features a G10 handle, Ritter's highly regarded wide-chord, high flat-ground drop point blade in CPM® MagnaCut and Hogue's robust torsion spring push-button auto mechanism. Ritter said, "I don't believe that you will find a better overall value in a USA-made automatic for everyday utility or survival. And, like every Doug Ritter RSK®, it's a knife you can bet your life on™. Click to review ALL available models of Doug Ritter RSK® Knives and Doug Ritter Gear.

Sales of Doug Ritter's RSK® knives allow him to continue his Knife Rights efforts to forge a Sharper Future for all Americans. Jim Bruhns, Hogue Managing Partner, said, "We couldn't be prouder to partner with Doug to manufacture his highly regarded knives. That this will allow Doug to continue to fight for our rights is just icing on the cake for all of us at Hogue who one hundred percent support Knife Rights."

The Auto-RSK's® blade is powered by a torsion spring from W.C. Wolff Co., famed worldwide for their superior springs engineered and manufactured in Newtown Square, Pennsylvania. Tens of thousands of Hogue automatic knives with Wolff springs have been in service worldwide, with civilians and military, earning a reputation for durability and reliability.
The operating button provides a textured surface that makes it easy locate while in the pocket and easy to operate no matter how slippery or with gloves. The Auto-RSK® incorporates a manual slider safety that can be used if desired.
Doug Ritter Auto-RSK® Specifications

Blade Material
Crucible CPM® MagnaCut (61-63 HRC)
Blade Length
3.44 in. (8.74 cm)
Blade Thickness
0.125 in. (3.18 mm)
Blade Shape
Wide-Chord Drop Point
Blade Grind
High Flat grind
Blade Edge
Hand Honed Plain Edge
Blade Finish
Heavy Stonewash or Black Cerakote®
Closed Length
4.72 in. (12 cm)
Open Length
8.15 in. (20.7 cm)
Handle Thickness (Max)
0.64 in. (1.63 cm)
Weight
4.5 oz. (127 g)
Handle Material
G10 or G-Mascus Composite
Liners
301 Stainless Steel
Pivot Washers
Phosphor Bronze
Pocket Clip
Reversible, Tip-up, Deep Carry, Stainless Steel
Release/Lock Mechanism
Textured Push Button
Safety
Manual Slider
Torsion Spring
W.C. Wolff Co.
Fasteners
Standard Torx
*Specification subject to change without notice
Jimping on the liners, handle and the blade thumb ramp are designed to be thumb-friendly, while still providing plenty of purchase.

The Auto-RSK® blade retains the exact same widely acclaimed 3.4-inch drop point profile with a high flat grind as Ritter designed for the original RSK™ Mk1. It is produced from premium Crucible Industries CPM MagnaCut powder metallurgy high carbon stainless steel produced in the USA. It has a stonewashed finish to provide added corrosion resistance and which also helps hide scratches.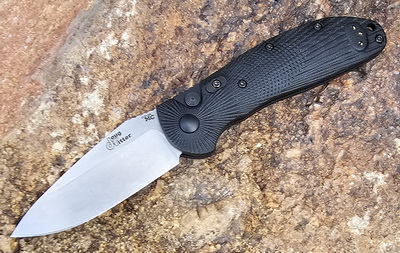 Dr. Larrin Thomas' groundbreaking CPM® MagnaCut steel is cryogenically processed to achieve a hardness of HRC 61-63 for an optimum blend of edge-holding and toughness. This is a point higher hardness compared to CPM® 20CV. MagnaCut provides equal or better toughness, improved edge holding and improved corrosion resistance compared to the already exceptional CPM 20CV steel.

The blade rides between phosphor bronze washers for the utmost in simplicity and reliability. The pivot screw is adjustable using a standard Torx driver.
The blade is laser engraved with Doug Ritter's logo and the steel type on the front and the Hogue logo and "USA" on the reverse.

The ergonmic handle scales are CNC-machined from black G10 high-pressure laminate aerospace composite. An "index bump" on the underside offers added security and comfort. The radial and checkered pattern machined into the surface combines effective grip with stunning esthetics. Ritter credits a fixed blade handle design by Les George on a Hydra Fighter he donated to Knife Rights' Ultimate Steel 2015 fundraiser as inspiration for that motif. A lanyard hole is located at the tail end of the handle.

The handle incorporates open construction with three standoffs.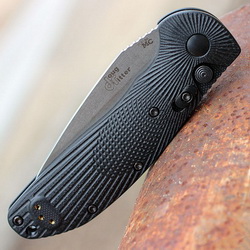 The Auto-RSK® is neutrally balanced, Ritter's ideal for this size knife. The Auto-RSK® with the G-10 handle weighs in at 4.5 oz (127 g) with the clip.
The Auto RSK® carries with a custom black-Cerakoted stainless steel deep-carry pocket clip. The clip is reversible for ambidextrous tip-up carry. While retained by two screws, a standard 3-screw pattern (Benchmade, Spyderco, Emerson, etc.) is provided so that owners can exchange the clip for any of the wide variety of aftermarket and custom clips available. Brass inserts provide secure retention of the clip screws. All the hardware is black coated.
The Auto-RSK® comes in a zippered pouch embroidered with the Doug Ritter logo.
Like every Hogue-built knife, the Auto-RSK® is manufactured in the USA and is backed by three generations of manufacturing expertise and Hogue's limited lifetime warranty.
RSK® is a registered trademark of Douglas S. Ritter

The Doug Ritter Auto-RSK® is available exclusively from KnifeWorks.com. KnifeWorks' EVERYDAY LOW PRICE starts is only $209.95** and ALWAYS with FREE continental U.S.Ground shipping!
** Pricing subject to change without notice. If different, price listed on www.KnifeWorks.com represents actual selling price.
---
---
Email Doug Ritter
URL: http://www.DougRitter.com/dr_auto_rsk.htm
First Published on: Oct. 6, 2023


Doug Ritter®, the Doug Ritter logo and RSK® are registered trademarks of Douglas S. Ritter
© 2023 Douglas S. Ritter - All rights reserved
Check our Copyright Information page for additional information.
Read our
Privacy Policy